Future Cardinal Jorge Enrique Jiménez gives a message of hope to the Colombian people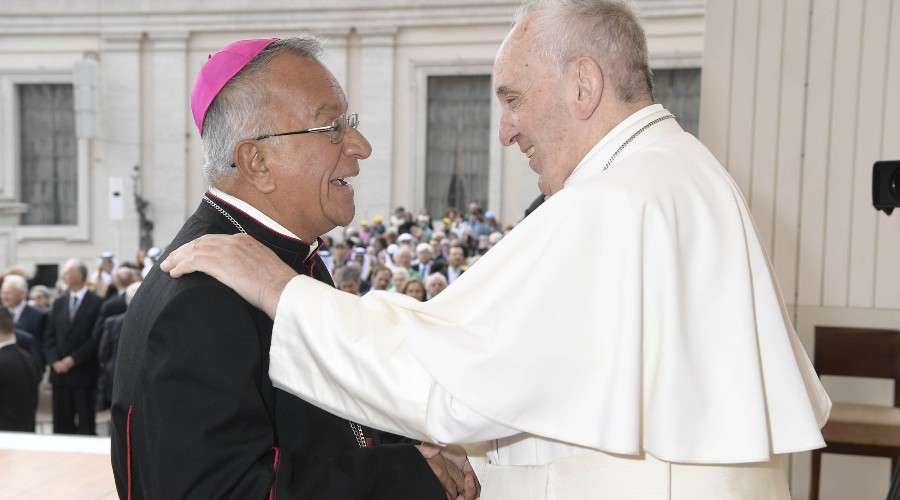 On the afternoon of this Saturday, August 27, Pope Francis will name 20 new cardinals, including the Colombian Msgr. Jorge Enrique Jiménez Carvajal, who defended that "every Catholic has to be a sign of hope in the world."
Interviewed by ACI Prensa just a few hours before becoming a cardinal, Msgr. Jorge Enrique Jiménez -Archbishop Emeritus of Cartagena-, wanted to give a message of hope to all the Colombian people.
"All men and all women have received an immense gift, which is called life. We all have to work for everyone's life, and respect it, take care of it, defend it, "he assured.
The future cardinal, 80, went on to explain that "the Church has a plus, which is faith in Jesus. It is a beautiful happiness, Jesus is our savior and whom our Father has sent for the salvation of all men".
"That's why -continued the future cardinal-, every catholic has to be a sign of hope in the worldin his family, in his country or in his town, always.
In addition, he assured that this is "a commitment, it is not something voluntaryCatholics must be aware that their responsibility is to give hope".
"And there we are fulfilling a fundamental task that Jesus taught us. The good news is that there is hopeNot that we are defeated. We can always stand up and fight," she concluded.
Short biography
Bishop Jorge Enrique Jiménez Carvajal was born in Bucaramanga (Colombia) on March 29, 1942.
From 1959 he made the Novitiate in the Congregation of Jesus and Mary (Eudist Fathers). He studied Philosophy at the Pontificia Universidad Javeriana in Bogotá and Theology at the Valmaría Eudist Seminary in the same city.
On May 17, 1964, he joined the Congregation of Jesus and Mary. On November 9, 1992 he was appointed by Pope John Paul II Bishop of Zipaquirá; he received episcopal consecration on December 12 of the same year.
He held the position of Secretary General of the Episcopal Conference of Colombia (1993-1995), as Secretary General of the Latin American Episcopal Council-CELAM (1995-1999) and President of the same (1999-2003).
He was a member of the Pontifical Commission for Latin America and the Pontifical Council for Sanitary Operators; at CELAM he was responsible for the Theological Pastoral Institute ITEPAL and, at the Episcopal Conference of Colombia, he was a member of the Coordination Committee with CELAM.
On February 6, 2004, His Holiness John Paul II appointed him Coadjutor Archbishop of Cartagena.
On October 24, 2005, he began to rule as the new Archbishop of Cartagena, until March 25, 2021, when Pope Francis accepted his resignation from office.