Full homily of Pope Francis in L'Aquila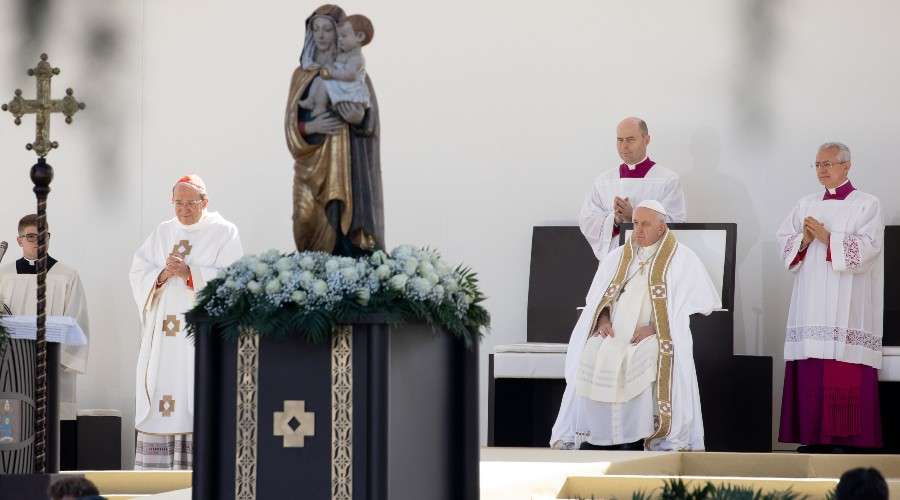 Pope Francis went in a popemobile to the Basilica of Santa Maria in Collemaggio, where he presided over the Holy Mass, the recitation of the Angelus and the rite of the opening of the Holy Door.
Here is the full homily of Pope Francis:
The saints are a fascinating explanation of the Gospel. Their lives are the vantage point from which we can glimpse the good news that Jesus came to proclaim, namely that God is our Father and that all are loved by Him. This is the heart of the Gospel, and Jesus is the proof. of this Love, its incarnation, its face.
Today we celebrate the Eucharist on a special day for this city and for this Church: Celestine Forgiveness. The relics of Saint Pope Celestine V are kept here. This man seems to fully realize what we heard in the first reading: "The greater you are, the humbler you must be, and you will find favor with the Lord" (Sir 3,18 ).
We mistakenly remember the figure of Celestine V as "the one who made the great refusal", according to Dante's expression in the Divine Comedy; but Celestino V was not the "no" man, he was the "yes" man. In fact, there is no other way to accomplish God's will than by assuming the strength of the humble.
Precisely because they are humble, the humble seem weak and losers in the eyes of men, but in reality they are the true winners, because they are the only ones who fully trust in the Lord and know his will. Indeed, it is "to the meek to whom God reveals his secrets." […] He is glorified by the meek" (Sir 3:19-20).
Faced with the spirit of the world, dominated by pride, the Word of God today invites us to be humble and meek. Humility does not consist in devaluing ourselves, but in that healthy realism that makes us recognize our potential and also our miseries. Starting precisely from our miseries, humility makes us look away from ourselves and direct it to God, the One who can do everything and also gets us what we cannot have for ourselves. "Everything is possible for him who believes" (Mk 9,23).
The strength of the humble is the Lord, not the strategies, the human means, the logic of this world, the calculations… No, it is the Lord. In this sense, Celestine V was a brave witness to the Gospel, because no logic of power could capture and handle him. In him we admire a Church that is free from worldly logic and that bears full witness to that name of God which is Mercy.
This is the very heart of the Gospel, because mercy is knowing how to love ourselves in our misery. They go together. Mercy cannot be understood if misery itself is not understood. Being a believer does not mean approaching a dark and terrifying God.
The Letter to the Hebrews reminds us: "You did not come near anything tangible, neither a blazing fire, nor darkness, nor darkness, nor a storm, nor the sound of a trumpet, nor the sound of words while those who heard prayed to God that he would speak to them no more" (12:18-19). No, dear brothers and sisters, we have approached Jesus, the Son of God, who is the Mercy of the Father and the Love that he saves.
Mercy is He, and with mercy only our misery can speak. If any of us thinks that he can reach mercy by any other way than our own misery, we have taken the wrong road. That is why it is important to understand reality itself.
L'Aquila, for centuries, has kept alive the gift that Pope Celestine V himself left him. It is the privilege of reminding everyone that with mercy, and only with mercy, the life of every man and woman can be lived with joy.
Mercy is the experience of feeling welcomed, restored, strengthened, healed, encouraged. To be forgiven is to experience here and now the closest thing to resurrection. Forgiveness is passing from death to life, from the experience of anguish and guilt to that of freedom and joy.
May this temple always be a place where we can reconcile, and experience that Grace that puts us back on our feet and gives us another chance. Our God is the God of possibilities: "How many times, Lord? One? Seven?" – "Seventy times seven." He is the God who always gives you another chance. Be a temple of forgiveness, not just once a year, but always, every day. This is how peace is built, through forgiveness received and given.
Starting from our own misery and searching there, seeking how to reach forgiveness, because even in our own misery we will always find a light that is the path to the Lord. It is He who makes light in misery.
Today, in the morning, for example, I have thought about this, when we have arrived at L'Aquila and we have not been able to land: thick fog, everything dark, it was not possible. The helicopter pilot went round and round… Finally he saw a small hole and went through it: he did it, a master. And I thought of misery: the same thing happens with misery, with misery itself. So many times there, looking at what we are, nothing, less than nothing; and we turn, we turn… But sometimes the Lord makes a little hole: get in there, those are the Lord's wounds! There is mercy there, but it is in his misery. There is the hole that the Lord makes in your misery for you to enter. Mercy that comes in your misery, in my misery, in our misery.
Dear brothers and sisters, you have suffered greatly because of the earthquake, and as a people you are trying to get up and get back on your feet. But those who have suffered must be able to treasure their suffering, must understand that in the darkness they have experienced, they have also been given the gift of understanding the pain of others. You can treasure the gift of mercy because you know what it means to lose everything, to see how what you have built crumbles, to leave behind what is most dear to you, to feel the tear of the absence of the person you loved. You can appreciate mercy because you have experienced misery.
Everyone in life, without necessarily experiencing an earthquake, can, so to speak, experience an "earthquake of the soul", which puts him in touch with his own fragility, his own limitations, his own misery. In this experience, one can lose everything, but can also learn true humility.
In such circumstances, one can be enraged by life, or one can learn meekness. Humility and meekness, then, are the characteristics of one who has the task of guarding and bearing witness to mercy. Yes, because mercy, when it comes to us, is for us to guard it, and also for us to bear witness to this mercy. It is a gift to me, mercy, to me, a wretch, but this mercy must also be passed on to others as a gift from the Lord.
However, there is an alarm bell that tells us if we are going the wrong way, and today's Gospel reminds us of it (cf. Lk 14,1.7-14). Jesus is invited to eat – we have heard – in the house of a Pharisee, and he carefully observes how many rush to get the best seats at the table.
This gives him the opportunity to tell a parable that is still valid for us today: "When someone invites you to a wedding, do not put yourself first, lest there be another guest more worthy than you, and the one who invites you invited and he comes to tell you: "Give him the place, please, and you go behind!".
Then you will have to occupy the last place with shame" (vv. 8-9). Too often people believe that they are worth according to their place in this world. Man is not the place he occupies, man is the freedom of the one that is capable and that fully manifests when it occupies the last place, or when a place is reserved for it on the Cross.
The Christian knows that his life is not a race in the manner of this world, but a race in the manner of Christ, who will say of himself that he has come to serve and not to be served (cf. Mk 10:45). As long as we do not understand that the revolution of the Gospel resides in this type of freedom, we will continue to witness wars, violence and injustice, which are nothing more than the external symptom of a lack of interior freedom. Where there is no inner freedom, selfishness, individualism, self-interest, oppression and all these miseries make their way. And they take the palm, the miseries.
Brothers and sisters, may L'Aquila truly be a capital of forgiveness, a capital of peace and reconciliation! May L'Aquila know how to offer everyone that transformation that Mary sings in the Magnificat: "He has cast down the mighty from their thrones, he has exalted the lowly" (Lk 1:52); the one that Jesus reminded us of in today's Gospel: "Whoever exalts himself will be humbled, and whoever humbles himself will be exalted" (Lk 14:11).
And it is precisely Mary, whom you venerate under the title of Salvation of the people of L'Aquila, to whom we want to entrust the purpose of living according to the Gospel. May her maternal intercession obtain forgiveness and peace for the entire world. The awareness of your own misery and the beauty of mercy.