Alexander Skarsgård takes on the tough skin of the warrior prince Amleth in 'The Man from the North', an epic thriller directed by Robert Eggers that chronicles one man's brutal journey of revenge in the Viking Age. That the Swedish actor ended up starring in the film might seem like destiny, as we will now see, but in reality it is the result of a process that he himself set in motion a decade ago.
This is what he told us in our interview for the theatrical release of the film in Spain on April 22. To set a precedent, Skarsgård played the vampire Eric Northman in the HBO series 'True Blood'. In addition to sharing a surname with the original title of Eggers' film, his character was a vampire whose origins date back precisely to the Viking Age. We asked Skarsgård about this coincidence thinking that it was just that, and the actor explained that in reality, if he ended up starring in 'The Man from the North' it is partly thanks to 'True Blood'.
"Ten years ago on 'True Blood,' we shot some flashback scenes to the Viking Age showing my character becoming a vampire," he explains. "I had such a good time those days and to get that little taste of what it would be like to play a Viking was very exciting. Back then, I thought it would be a dream to one day shoot a Viking movie. So maybe, in a little part, I'm sitting here thanks to 'True Blood,' because that's where it all started.
With that idea in mind, Skarsgård teamed up with Danish producer Lars Knudsen and together they started looking for a project that could tell a good Viking story on film, as he reveals in the interview. That's where Robert Eggers came in, whom he met a few years later, thus making it possible to fulfill his dream with 'The Man from the North', a project they worked on together for five years.
Adapting to Eggers mode
As well as telling us how 'True Blood' planted the seed of 'The Northman' in his mind, Skarsgård details what it was like to shoot the film, which he describes as "the most immersive experience I've ever had on set", thanks in a big way to the extreme attention to detail with which Eggers recreated the historical era in which it is set: "As an actor, he's wonderful and very helpful when you get to the set and feel like everything is historically correct." "[Robert] He worked hand-in-hand with a group of Viking historians so that when you saw the film, you felt transported back to that time."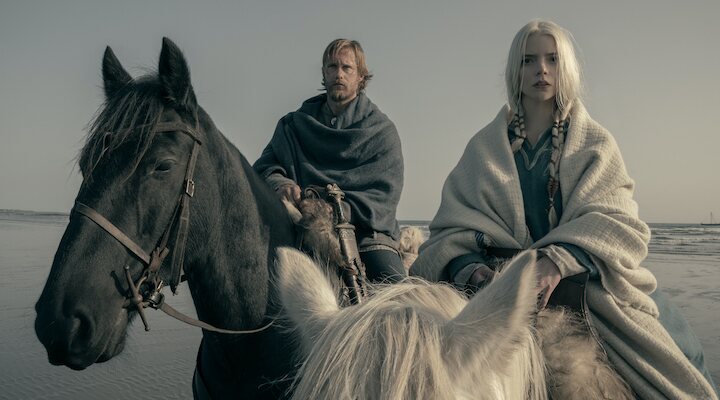 However, the director's style of 'The Witch' and 'The Lighthouse', which strays away from commercial action cinema, posed a considerable challenge at first. "I knew it was going to be a unique challenge to shoot a big action movie on celluloid with just one camera shooting each shot continuously," he admits. "I wasn't familiar with this way of working, especially on an action movie, where you usually have a lot of cameras. I was glad I didn't start with a big fight scene because it gave me two weeks to understand how Robert Eggers and [el director de fotografía] Jarin Blaschke, how that dance between the characters and the camera worked."
In this sense, working with Anya Taylor-Joy, who made her film debut with Eggers in 'The Witch', also helped her better understand Eggers' modus operandi: "Without a doubt, talking to Anya about her work in 'The Witch', on that technical side, was very helpful."
'The Man from the North' opens exclusively in theaters on April 22.