In general terms, the Spanish box office for the weekend of April 15 to 17, Easter, has been weak, very weak, with figures not seen since mid-February. According to data from Comscore, the 20 most watched films in Spain in those days have not even raised 4 million euros (although they have been close to them) and have only brought 576,344 people to theaters compared to more than 800 thousand who attended between April 8 and 10. The good weather, the processions and perhaps the lack of powerful premieres have played against our cinemas, which have pocketed €1,660,959 less than the previous weekend.
At the head of the ranking remains 'Fantastic Animals: Dumbledore's Secrets', which in its second week has raised 1.1 million euros on 808 screens, which represents a drop of 58% compared to its premiere and raises its total in our country to 5.5 million euros. The total number of admissions between Friday and Sunday was 156,405 people with an average of €2,802 per cinema, a terrible figure for Warner and feared by its fans. The second place is occupied by 'Sonic 2: The movie' in its third week, with a drop of 37% and adding €635,603 to a total that has already exceeded 5 million euros. Paramount's sequel can still be seen on 397 screens, where it has earned an average of €1,677 per cinema.
In third place was the best premiere of the week: 'The Lost City', the comedy by Sandra Bullock, Channing Tatum and Daniel Radcliffe. Also distributed by Paramount, the film has debuted in 342 cinemas where it has obtained an average of €1,827 thanks to 93,402 admissions. Its collection over the weekend has been €634,049, which makes a total of more than one million euros thanks to the screenings on Wednesday, Thursday and Good Friday.
Fourth place is occupied by 'Morbius', which continues to fall with 50% less revenue in its third week in theaters. Jared Leto's film has grossed €344,500 on 426 screens, with an average of €1,001 per cinema and thus its total has exceeded 4 million euros. The top 5 is closed by 'The Bad Guys' after 5 weeks on the bill and it is the only animated film in the top 10. Distributed by Universal, it has added €286,751 making a total since its premiere of 5.5 million and suffers one of the biggest falls slight of the entire ranking, of only 28%.
Last week there were only two premieres among the 10 most viewed films, but in this one, although with worse figures, 3 have slipped in. In addition to the aforementioned 'The Lost City', the sixth and seventh places are also new films in theaters : 'Ambulance. Escape Plan' and 'The Game of Keys'. Michael Bay's did slightly better than the Spanish comedy, grossing €225,186 over the weekend and €356,889 since its premiere on Wednesday the 13th. The film was shown in 314 cinemas where 32,433 people have come to see its frenetic explosions, making an average of €576 screen. In the case of 'The Game of Keys', Warner Bros. has released the film in 300 cinemas, where it has made a good average of €746 per screen. Its total collection in the 5 days is in fact €7,311 higher than that of 'Ambulance', but its figures for the weekend have remained at €223,914.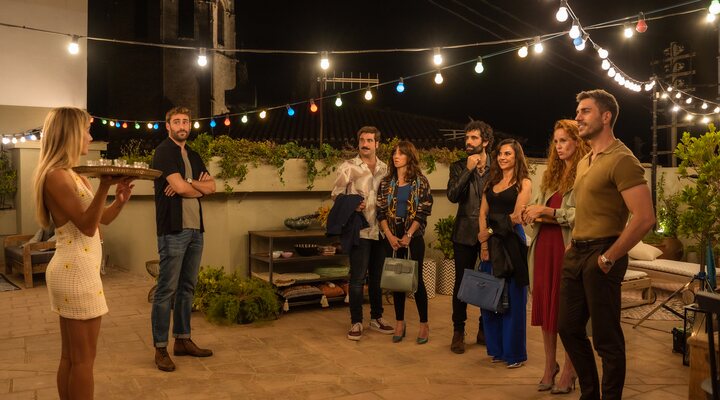 In eighth place falls 'The Batman', which last week still closed the top 5. The DC superhero suffers a drop of 43% adding €113,318 to a figure that already exceeds 10.5 million euros. The average per cinema of the 202 in which it can still be enjoyed 7 weeks after its premiere is €561 and, almost two months later, it has still brought 15,675 people to the seats. In the case of 'Uncharted', which only falls 26%, after 10 weeks in theaters, 13,476 viewers have still wanted to go see it. The Sony film adds €94,211 to a total that is very, very close to exceeding the €12 million collection (it has remained at €11,972,080). Starring Tom Holland and Mark Wahlberg, the video game adaptation remains on 180 screens in 172 cinemas with an average of €548 per theater. Closing the top is 'Canallas' by Daniel Guzmán in its third week with an average of €230 per cinema. Universal maintains it on 320 screens and between April 15 and 17 it collected €62,902, bringing its total to €768 thousand.
and this week
Next Friday we return to normality on the day of premieres after Easter and among the most prominent we find 'El Hombre del Norte', the new film by Robert Eggers, director of 'The Witch' and 'El Faro'. Starring Alexander Skarsgård, Nicole Kidman and Anya Taylor-Joy, this epic Viking drama has already conquered the critics, will it do so with the public? 'Veneciafrenia', a slasher by Álex de la Iglesia, and 'Dog. A wild ride ', a good roller road trip with Channing Tatum and his dog. For the little ones in the house, the only novelty will be 'Kaporito: El guardian de la montana', and for lovers of documentaries, 'El beso de Dios' will be available. The documentary of the Mass' and 'To the women of Spain. Maria Lejarraga. Other premieres include 'Arthur Rambo', 'Notre Dame Burns', 'A Little Plan… How to Save the Planet', 'On the Edge', 'Tokyo Revengers' and 'On Point', let alone there is where to choose.