Europe's patron saints are intercessors for peace, say experts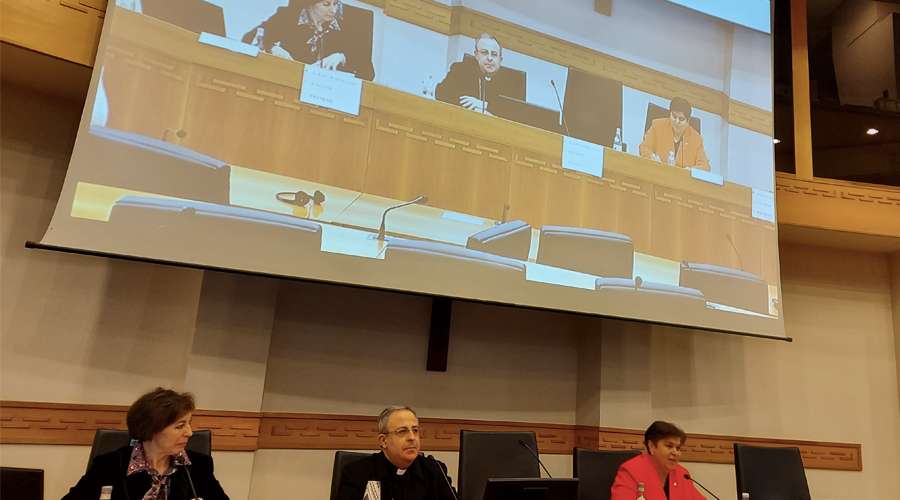 The patron saints of Europe transmit to the Church and to the world a message of peace, hope and commitment in the current international war context.
This was indicated by academic experts gathered at the first Congress on the Doctors of the Church and Patrons of Europe that took place in Rome on March 7 and 8.
Saint John Paul II proclaimed in 1999 to Saint Catherine of Siena, Saint Bridget of Sweden and Saint Teresa Benedicta of the Cross (Edith Stein) co-patrons of Europealong with Saint Benedict of Nursia and the holy brothers Cyril and Methodius.
The organizer of the aforementioned Congress, Fermina Álvarez, told ACI Prensa that "in this warlike context that we are suffering, that we are suffering, their message (of the patron saints) still acquires much more light and more timeliness", because it is about " a message that we now have to deepen, to savor much more, to make life".
In this line, Fermina Álvarez indicated that "the holiness of these women is imitable and we have to read them, get to know them better, bring them to life and stimulate ourselves in that feminine holiness to which the Pope invites us".
"The Pope counts on women and counts on them in the Church and counts above all on promoting that holiness of life that we are called to and that he expects," said Álvarez.
Finally, Fermina Álvarez recounted two specific results of the congress. First of all, the publication of a book on the women doctors of the Church and patron saints of Europe available free of charge at this link and the more than 20 thousand euros they raised for charity in favor of Lebanon.
"We thought: if these women lived today, here and now, what would they have done, something concrete, and we thought about the education of women. And since the Pope had asked us to pray for Lebanon, we thought of Lebanon. And from there came the idea of ​​financing three educational projects for young people, for the deaf and dumb, an orphanage and a residence for young girls in Lebanon, which has also been a very precious sample of this congress, to the point that all the registered, more than 300 in total between organizations, sponsors and participants we have raised more than 20 thousand euros and I still believe that some will come to be able to finance these projects".
For her part, the rector of the Catholic University of Ávila, María del Rosario Sáez Yuguero, warned in statements to ACI Prensa that society is still suffering from the effects of the pandemic and a tremendous war has begun, for which she considers that "these women, especially all those who are co-patronesses of Europe, They are intercessors who bring us a message of peace, of hope and also of commitment. and they also invite us to commit ourselves, stepping on our reality, to work for peace in this society that is losing hope and that is so wounded by so many painful situations".
Reflecting on the common points of these holy women, María del Rosario Sáez stressed that "although they lived in a very different time, as we have seen in different centuries, however, almost all they have had in common has been his high degree of holiness, his union with God, being great mystics, but at the same time they have been able to transmit that experience of God to us through their writings. Many of them are great writers and also women who reformed and contributed to the reform of the Church, but never separated from the Church, with a great love for the Churchand starting that reform of their orders, of their convents, by a personal conversion".
"I believe that today the reform that is asked of us is personal reform to reform the Church, the structures, not so much the structures, but rather the spirituality of each one of us," said Sáez Yuguero.
Finally, the rector of the Catholic University of Ávila referred to the message that Pope Francis addressed to the participants of this initiative, in which "he sets these women as a model, I insist, these great friends of God, because deep down these women would not have gone down in history if they had not been saints; and most important of all, I think it was that holiness and being a model for the woman of today, of how she is a woman in the Church".