Kicking off with a unique climax, "Doctor Strange in the Multiverse of Madness" underscores from the very beginning that what the Marvel Cinematic Universe has to offer is something not found anywhere else on the big screen. With incomprehensible sequences for a viewer outside the trip, and a very high point of intensity, this sequel, not only to 'Doctor Strange', but to so many other plots hinted at throughout the series and movies that we have already seen in Phase 4 ; he takes his first steps towards a journey that is not at all confusing.
This is already surprising in a certain way, because no matter how much the viewer wants to leave "the backpack" at home, all that mixture of preconceived questions or elements foreign to the film itself that cloud our perception; in the case of 'In the multiverse of madness' it is practically impossible. There are numerous points that lead us to sit in the movie theater from an emotional position away from the blank page.
On the one hand, if one knows what the production path has been, one has in mind that Scott Derrickson left his position as director, resulting in the incorporation of Sam Raimi; and that this film has had to be shot under the new protocols and security measures imposed by the pandemic. To this we must add an aggressive promotion that has the hype through the roof ensuring that we are facing something enormous never seen before in the UCM; and that 'Doctor Strange 2' comes to us after the marvel that is 'Spider-Man: No Way Home'.
Said breeding ground, present for the followers who are used to following what happens in their favorite universe, in the end, inadvertently, is part of the film itself, a film that bears the weight of expectations very well and juggles without any ball hit the ground. Michael Waldron, screenwriter of 'In the multiverse of madness' and 'Loki', has been living for a few years in and for the multiverse: and it shows. On more than one occasion he has stated that taking everything into account results in major headaches, a difficulty that pays off throughout a more than commendable narrative arc.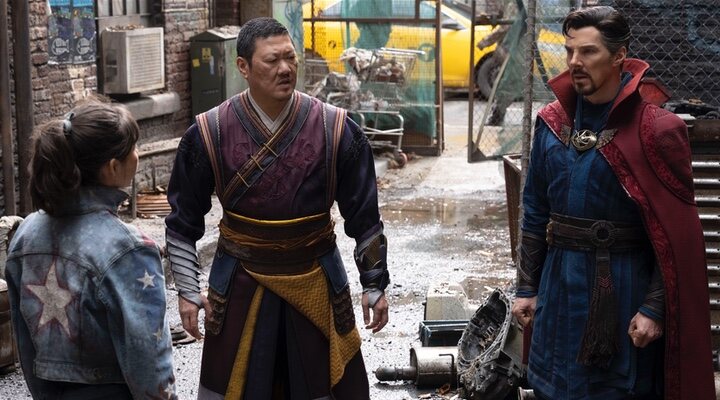 Yes, his script has a few moments of over-explanation that will raise eyebrows in the room, but this is quickly offset by other moments of telekinesis. Waldron manages to answer questions about his characters' motivations at the very moment they arise in the viewer's mind; something that involves important work. He shows that he has been spinning it. He is noticed and appreciated. Kevin Feige's shadow is also elongated, so it is suspected that certain turns have come from above, as well as more than one aesthetic decision to favor continuity with previous proposals.
In contrast, it is also perceived that both Waldron and Raimi have run the show. This director, loved today for the superhero vision that he posed with his Spider-Man, the one played by Tobey Maguire; he returns to the genre emphasizing that his approach is very particular. Terror with touches of gore is what this filmmaker contributes, who does not abuse (but almost) his mythical shots, and who takes those dyes so foreign to 'for all audiences' to the very edge of the abyss of the PG- 13. What would be a not recommended for children under 13 is especially noticeable in a certain scene that does not show his carnage before the camera, but hints at it so well that it is completed in the public's mind.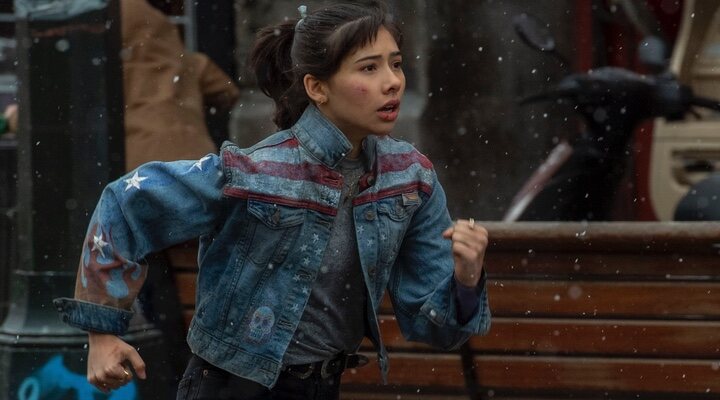 In the end, the fans attend a bloody and brutal moment that does not show the fat, but suggests it so well that the effect gains impact, one that we have not really seen before in this universe. Thus, those ingredients incorporated by Raimi give a very tasty touch to the stew, a dish that in the end is more attractive as always: because Marvel Studios, before betting everything on that interwoven canvas that turns its films into something tremendously unique, has given more than anything with her castings and Xochitl Gomez was not going to be the exception. His America Chavez enters the MCU through the front door, working very hard to convey feelings that almost gel as well as when it is Cumberbatch who is in charge of the deployment.
On the other hand, as Robert Downey Jr. conveyed to us with his Iron Man or Chris Evans with his Captain America, only Elizabeth Olsen was, is and will be Wanda/ Scarlet Witch. She already amply demonstrated it in 'Scarlet Witch and Vision', the first time that Marvel let her character shine, and now she reminds us of it by spending this entire movie at an interpretive level as high as practically unbearable.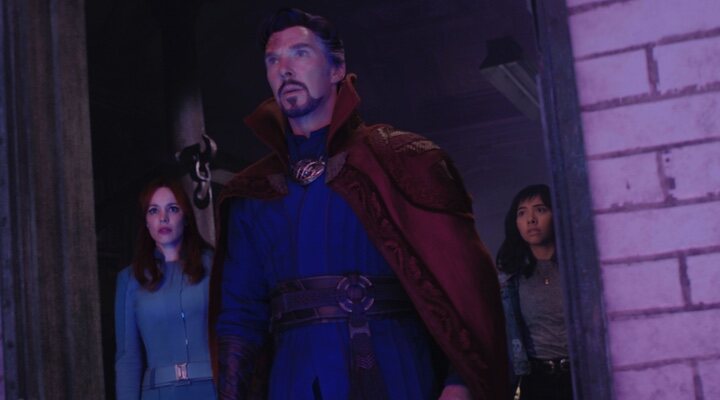 We cannot say anything about her without spoilers, only that her journey hurts as we saw in the series that she co-starred with Paul Bettany (or more). The compliments are missing for what Olsen supposes in this 'Multiverse of madness', but Benedict Cumberbatch not being there would be like pulling the thread of a blunt jacket: you end up with a mess at the seams. His mastery is a gift to Doctor Strange, especially in this movie.
There is an essential shot, which could be considered insubstantial, in which Cumberbatch displays all his talent and insists on his commitment to the character. An instant, on the verge of tears and with misty eyes, in which this actor intends to pull the emotional bandwagon by himself. In fact, he is left on the verge of supplying with his ability something very important that ends up missing: a powerful emotional anchor. This affects absolutely everything in the film.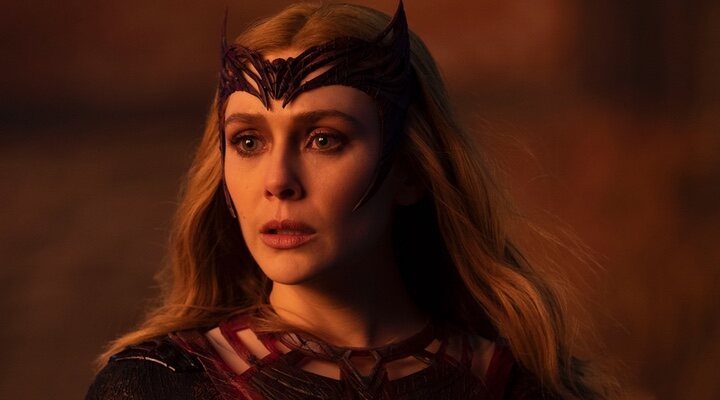 Perhaps if we had not seen 'No Way Home' the story would be different, but it is impossible not to remember the reaction that film caused in theaters, a film that had a very powerful emotional point for everything, cameos included. 'In the multiverse of madness' does not achieve this effect because it pulls relationships that we have not lived and rescues characters whose background is not comparable to that of the Spideys of Maguire and Andrew Garfield.
In the end, the spectacular nature of the multiversal concept and all the crazy visual resources that accompany it, the creepy touch and the support of Wanda's feelings, aspire to make up for that lack, and they manage, but they stay far from what Jon Watts transmitted, Chris McKenna and Erik Sommers with the latest from Tom Holland's Spider-Man. Also that lack of emotional packaging is filtered to put the focus (more than usual) on a fan service that can be singing.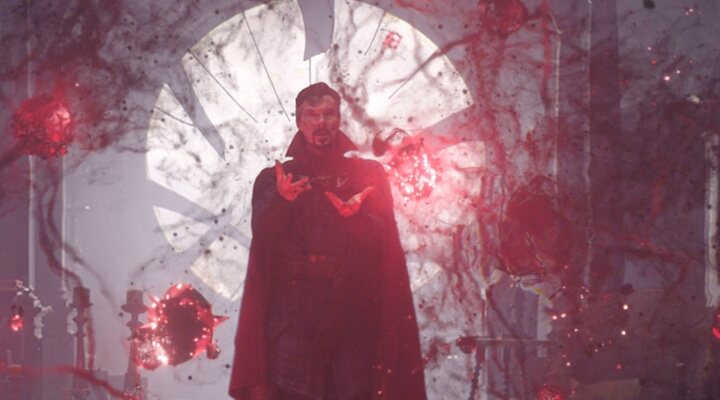 But the truth is that, despite this exponential leap in terms of the bond with the viewer, it cannot be said that 'In the multiverse of madness' does not succeed. Plan on a marvelous formula that is less obvious than on other occasions, take advantage of its visual tools, make a difference with the occasional scare and the aforementioned terrifying point, and give the favorites a field. Now, we will see how the public fits their decisions, some of them potentially controversial, and what leads to a path that we are only beginning to travel. The dawn of Phase 4 continues to maintain the level, but the madness is contained in a multiversal movie but not as much.
Post-credits scenes:
Of course, 'Doctor Strange in the multiverse of madness' has two post-credits scenes: the usual one just after the first animated credits, and another one at the end of the rest of the mentions. In this regard, it is interesting to note that the first scene releases an important bombshell (which we are not going to spoil), but on the contrary, the second is a joke without chicha. Well, if after 2h 7min you need to run to the bathroom, go in peace, if you don't see the second scene, you don't miss anything.
Note: 8
The best: The direction of Sam Raimi and the total dedication of Michael Waldron, without a doubt.
The worst: That the emotional bond lacks packaging, and some decision regarding the plot that… we can't talk about.