Disney Dreamlight Valley | Review – I'm going fishing with Pippo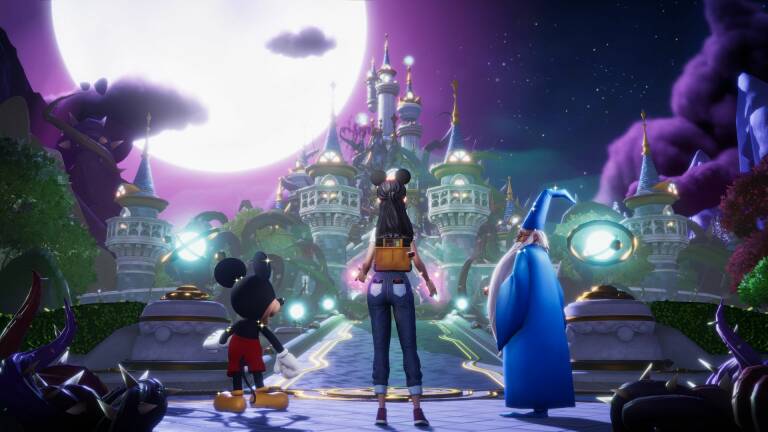 Not long ago, we told you about our first experience in Disney Dreamlight Valleythe curious life simulator halfway between The Sims and Animal Crossing.
Disney Dreamlight Valley

Platform: PC, PS4, PS5, SWITCH, XONE, XSX Genre: Adventure, Simulation Release Date: September 6, 2022 Developer: Gameloft Distributor: Gameloft
The new Gameloft home title proves itself perfect for all lovers of the Disney world and beyond. It's a marriage of relaxation and entertainment, one of those games you could spend hours on without realizing – especially when played on a portable console. Well yes, because if the our first test was done on PC, this new review instead, it develops on the version Nintendo Switch: same characteristics, same adventures, same narrative.
Dreamlight Valley is in fact available on PC, PlayStation 4 and PS5, Xbox One and Series X / S (also on Game Pass) and Nintendo Switch. So, if you are interested in knowing some details, follow us in our review: we will take you into the world that made us so excited since we were children.
Disney Dreamlight Valley always at your fingertips
The release of Disney Dreamlight Valley also on the Nintendo Switch is worthy of mention. This is because, if that is true the adventure is immersive on PC, on the handheld console it is even more so. Being able to play it anywhere on the planet makes the title almost addictive. It's hard to break away from such a relaxing world who is always looking for our help.
Within the title we can create our virtual avatarcompletely surrounded by the most famous animation characters. A vast world to exploreso many adventures to face and so many mysteries to unravel. All this in the plus complete freedom.
In fact, we will be able to experience the adventure at our own pace and with the maximum customization of one's life. Not only will we be able to create our alter ego, but we will also be able to furnish everything that surrounds it to our liking. We will be able to expand and beautify our home, cultivate the land and beautify the outside.
There will, of course, be a basic narrative which will make our adventure even more enjoyable and interesting.
In addition to taking care of our daily life, we will also have to stop the thorns of oblivion who are trying to destroy our beloved animated world. Among our daily activities, there will be to gradually eliminate these thorns, in order to grant once again joy and prosperity to the Disney kingdom.
In addition to this, however, we will not have to forget everything that surrounds us: it will be our care planting seeds, watering them, reaping the fruits. Fish it will become one of the most sought after actions of the day, but not only.
We will dig many holes to unearth interesting treasures, we will break the rocks in search of the most precious minerals and we will expand our cookbook to cook tasty meals. Simplicity, patience and determination are the keywords in Disney Dreamlight Valley, which does nothing to forget Animal Crossing. And in a way that's okay.
Fishing with Pippo, as the title suggests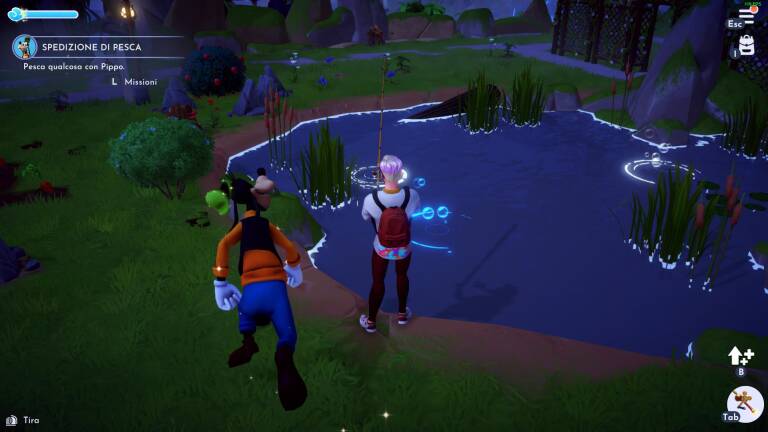 Many worlds and many adventures await us
While there are many similarities between Disney Dreamlight Valley and other games of its kind, we have made no effort to spend our hours in his company. The title presents the most classic aspects of a life simulatoralthough always keep the attention high.
In addition to chance to make your own lifethe game puts us in a position to follow one narrative thanks to the acquisition of small achievements. The plot in the background, in fact, is not too invasive, but neither is it futile. We will be called upon to complete some activities that will not only give us one scopebut they will allow us to further expand our items.
The main missions focus on helping the different characters present within the game world: these are, in reality, fairly simple actions that will make us get different rewards. For example, we will have to help Mickey Mouse create a recipe for his beloved one or follow Pippo in the fishing sessions.
While these are not too difficult tasks, they will allow us both to keep the interest alive and to visit many new places. The areas are not too large, yet they are treated in detail, which makes them easily recognizable in the eyes of users. Each has different sounds, colors and biomes, impossible not to notice.
Each of these realms will be accessible upon achieving a particular goal. At the moment, there are not many play areasbut, being a title that (at least on PC) is underlined as in Early Access, we are sure that many more will be introduced over time. In any case, each of these allows us to obtain new recipes and new accessories.
The missions are also interesting especially because our beloved Disney characters are asking for help. Merlin, Mickey, Goofy, but also WALL-E and many others populate a setting that hits the mark when it comes to recalling childhood memories and nostalgia.
We can also have small pets with us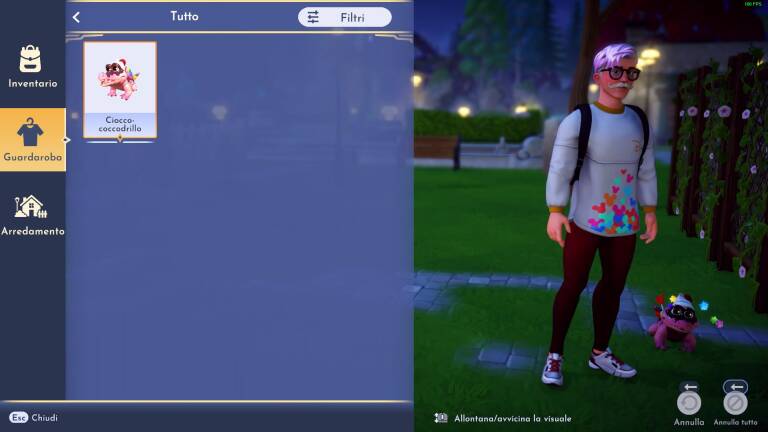 It takes calm and patience
Unlocking all of the Disney Dreamlight Valley locations takes a lot of patience. In order to enter the various game areas, in fact, we will have to meet certain requirements, such as collecting a certain amount of resources, or planting a certain number of seeds or selling a certain amount of fruit and vegetables. These are very simple activities that will not have a deadline, they can be completed easily in the course of the narration.
This routine of actions will be just what will keep us glued to the screenhour after hour, day after day. Completing these activities will earn us the Dreamlight in-game currency, thanks to which we will be able to unlock all the new game areas.
In order to carry out any action, we will need energy. During our sessions we will have a bar that will wear out every time we make a move particular, such as removing thorns or fishing.
Once this is done sort of staminawe can recharge it by eating, or returning home. For the moment, it does not appear that this bar will remain permanently compromised, but we have no idea what could happen in the future.
A house to improve day by day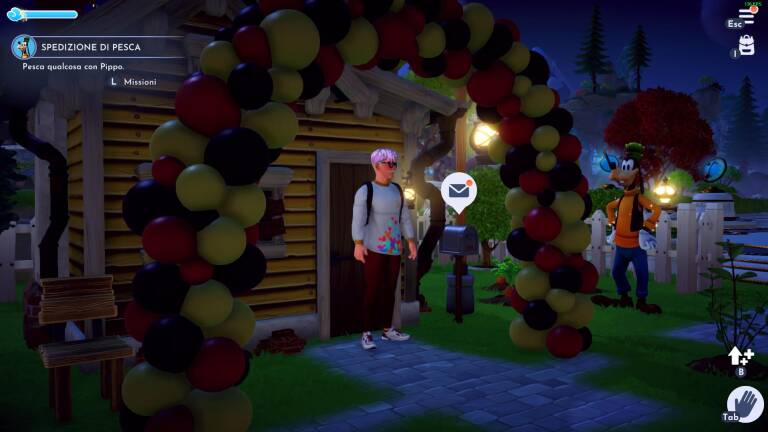 Disney Dreamlight Valley is a particular free-to-play
The final version of Disney Dreamlight Valley will be free-to-play on all platforms. At the moment, however, if you want to play Early Access, you will have to buy it or play it through the Game Pass payment (which you can find on offer on Amazon). This is certainly the least reassuring aspect of the title.
The fact that there is an initial paid phase makes sense for the development of the final game, but could make you turn up your nose at the time of his for free. The promise of the free release could suggest that it can be transformed into a pay-to-play. Therefore, different scenarios could open up, including the payment for simple actions, such as recharging energy.
Unfortunately, at the moment, we don't know how it could evolve or what the final intention is. What we can say is that, at present, it is a more than fun game and from which it is difficult (and sad!) to break away. There are so many worlds to explore, so many items to unlock, so many stories to discover and the formula simply works.
Without going too far from the point of view technicianwe want to analyze some details. Compared to the PC version, in fact, the one for Nintendo Switch suffers from some shortcomings. These are not issues that are so extensive as to compromise their playability, but it is good to point them out. On some occasions, in fact, we have seen some drop in frame rates, a few delay in actions and quite long loading times.
Furthermore, and this also happened on the PC version, in some moments, we were unable to get some items that we had unlocked. Being an Early Access version it is normal that it is not perfect, but we hope that these errors will be corrected as soon as possible, to avoid that they can, in the future, really compromise the gaming experience.
Version reviewed: Nintendo Switch