The actor Cosimo Fusco continues his career in Spain. After conquering the public by becoming the dark Father Angelo in the first season of '30 Coins', the interpreter returns to give life to a malevolent doctor and a sinister jester in 'Veneciafrenia', the new feature film by Álex de la Iglesia, available now in theaters from this April 22. The artist, who is filming the second season of the HBO Max fiction, does not hesitate to share his excitement at meeting the filmmaker from Bilbao. "He is a magical person, with a superior ability to understand people," he notes.
Known for a whole generation for having played Paolo, Rachel's (Jennifer Aniston) sexy Italian boyfriend in the iconic 'Friends'; Cosimo Fusco, an established actor in his native Italy, breaks into the Spanish industry with force by the hand of Álex de la Iglesia, since 'Veneciafrenia' is his second consecutive collaboration with the director of 'El día de la bestia' or 'Crimen ferpect'. "It was a miracle because I didn't speak Spanish and Álex was looking for someone for this production, which was very important. He offered it to me and I had to learn it," explains Fusco in an interview with eCartelera in Madrid.
"It happened in a mysterious way, because they called my representatives in Italy, asking about me. I only knew of two of Álex's films, 'Sad Trumpet Ballad' and 'The Bar'. They were very good films, but I did not know that he is a very good director. recognized in Spain. I saw that it was an important project and I began to read the scripts. I had vertigo, because I still didn't know how to speak Spanish. But taking the risk was worth it," he continues, who recalls, excited, his first time recording a sequence in the language of Cervantes.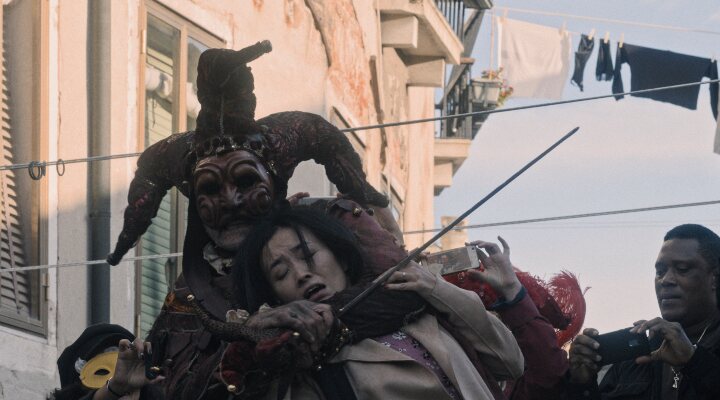 "I remember my first time shooting in Spanish. It was in Pedraza, at three in the morning in front of thirty people, it was very nice. When I finished the scene, I felt that it went very well. I saw that Álex felt that he was not wrong in choose me", he explains, highlighting how the security between him and the Basque filmmaker strengthened a bond that has continued both with 'Veneciafrenia' and with the second season of '30 Coins'. "He always gave me a lot of confidence and he also trusted me and that was a gesture that conquered me, giving someone the opportunity," he argues.
"It was exceptional to shoot in a Venice empty of tourists"
For Fusco, 'Veneciafrenia' is not only a tribute to the giallo, but, above all, to the cinema of Dario Argento, one of the greatest figures of Italian terror. "There are touches of Dario Argento's cinema, but it is a completely different film, it has Álex's hallmark. For example, Álex takes inspiration from the phenomenon of mass tourism in the city, while Argento used the black chronicle. Álex gives it a fantastic and entertaining touch", he exposes, remarking that De la Iglesia "loves the genre".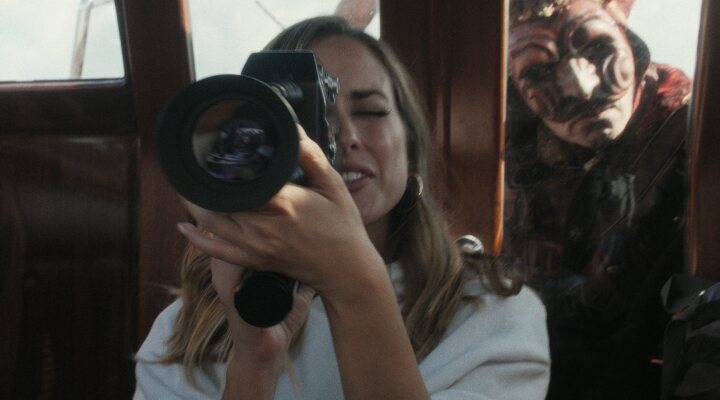 Although the film narrates the critical situation of Venice for being constantly invaded by tourists, the truth is that it had to be shot with the city of canals completely emptied, due to the restrictions due to the coronarivus and that it was recorded during the second wave in Italy. "It was an exceptional event. It was also an opportunity to find ourselves, in a setting as magical as Venice. For me, it was inspiring, we could make a Bergmanian slasher outside the set, because of the silence, the historic city and the filming of a horror movie, it had a certain poetic touch", he details.
"We were lucky with the shooting, there were no positives for coronavirus and we were able to meet the deadlines. We feel very lucky. We coincided with the shooting of the Tom Cruise movie and they had to stop the recordings several times because they had cases. Even so, It was not easy at all, we had to be very careful, there was a very strict protocol and we took it to the letter," he adds.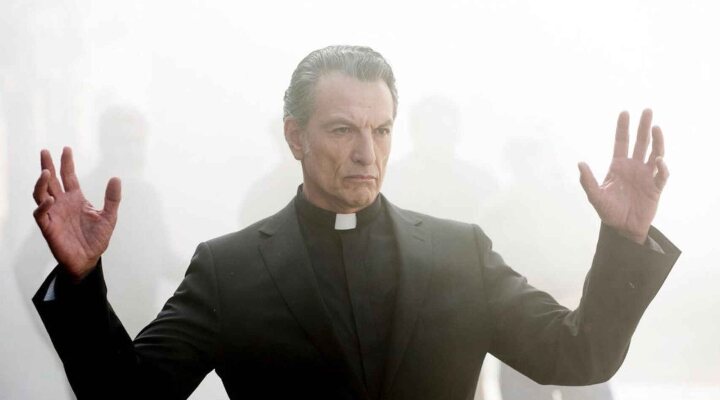 Regarding the second season of '30 Coins', Fusco points out that Father Angelo will have the challenge of "continuing to play an ambiguous role" in his intentions. "Now we know who he is and what he wants. The cards are on the table and it will be more difficult for him to intrigue. Of course, it is clear that he does not plan to change his goals," he reveals, commenting that his character "is going to have an unexpected path" in this batch, which will have a "more international" focus.
"I want to work with León de Aranoa and Sorogoyen"
Although his experience filming in Spain has only been in Álex de la Iglesia productions, Fusco wants to continue expanding his filmography in the Iberian country. "I would love to continue working in Spain. There are directors with whom I would like to collaborate, put back under the direction of Álex de la Iglesia or work with Fernando León de Aranoa, Rodrigo Sorogoyen or Alejandro Amenábar", he confesses, also highlighting that the industry Spanish can have greater international projection.
"Italy depends much more on co-productions, one of the advantages that the Spanish industry has is that its films and series can be seen in the Latin American market, since a language is shared," he says, although he is well aware of the complicated situation they are experiencing the movie theaters. "Cinema is at a very critical moment and not only in Spain or Italy, but throughout the world. In the case of Italy, whose market is more limited, the problem is bigger, people are not returning to theaters. It is also on the issue of export, Italian productions depend a lot on prestige and presence at festivals, which limits the export of titles with a more commercial focus," he explains.
Directed by Álex de la Iglesia, who signs the film's script together with Jorge Guerricaechevarría, 'Veneciafrenia' is now available in cinemas from Sony Pictures Spain. On the other hand, the second season of '30 Coins', also directed by De la Iglesia, is scheduled to premiere in 2023 on HBO Max.