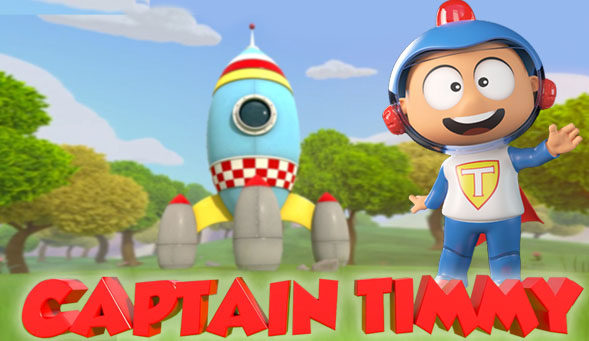 Crowdfunding Captain Timmy series
The Murcian producer José Sánchez launches a crowdfunding project to develop the animated children's series Captain Timmy.
A character created to raise awareness of the pressing problem of childhood obesity. In fact, the villain is none other than Lord Zilla.
A series with careful 2D animation that seeks to entertain while raising awareness of the importance of healthy eating.
In fact, Captain Timmy It has already starred in various communication campaigns and even has its own line of healthy products. Now, if all goes well, he hopes to make the leap to the screen.
You can learn more about the project and collaborate in the production through this official crowdfunding link: Verkami (Captain Timmy).
Team Captain Timmy
Among the team we find a lot of talent. As we said, the Murcian producer Jose Sanchez. He has worked as a production assistant, script doctor and typecaster with filmmakers such as The Gallego Bros on Good Night Spa (Mentioned in the New York Times Arts and screened at the Brooklyn Academy of Music).
He also has extensive experience as an animator alongside Miguel Herrero, a member of the Spanish Film Academy in the feature film "The Art of Light and Shadow" (in production).
Even as a voice interpreter with Jorge Yudice (Goya candidate in 2020) in Rippole (2017) and Credit (2016), Studio Nimai in Uncovered (2016-present).
Of course, for this project José Sánchez collaborates with the creator of the characters, Giorgio D'Amico.
Giorgio D'Amico was born in Buenos Aires: father, designer, art director, chef and has worked for the most prestigious agencies in Buenos Aires, Rome, Milan and Madrid.
Besides, the captain timmy series It has writers like Cristina Borquetas (nominated for a Goya for Best Animated Film this year for Mironins).
Also with Xavier Marrieda composer and instrumentalist who has participated in the production and composition of Pedro Almodóvar's films (Talk to her, Bad education, Return, Broken hugs, The skin I live in): nominated for an Oscar together with Alberto Iglesias (The Faithful Gardener, Kites in the sky, El Topo).
The project has the voice of Michael Morant as a singer (voice in tunes like Oliver and Benji, "An ideal world" in Aladdin" or "A man I will make of you" from Mulán).
What is the Captain Timmy series about?
Timmy He lives in a galaxy not too far away. He is a tender and kind boy, but he is not someone outstanding, he humbly dedicates himself to serving his great bosses. However, one day his luck will take an unexpected turn.
In one of those majestic meetings between his superiors, a problem that is devastating the entire Earthling population comes to light: poor infant nutrition.
Timmy is present, almost by chance, at that meeting and, without meaning to, becomes the center of attention. One of his bosses asks him for his name and, from that moment on, everything changes. Timmy fits the profile of the superhero they need to carry out the mission of ending those bad habits among children. From then on, Timmy will stop being Timmy, becoming Captain.
But, of course, not everything will be so simple. Captain Timmy will be able to go to Earth, where he will make two great human friends, Adriana and Marti, but he will have someone who will not make his job easier: the evil and villain lord zillaa sticky and sticky character, trickster and will try to deceive the children with his tricks and will do everything possible so that our Captain does not achieve his mission.
Remember that you can collaborate so that this project goes ahead in: Verkami (Captain Timmy).
You have more information on the official website: CapitanTimmy.com
Captain Timmy Teaser