Benedict XVI thanks greetings from all over the world for his 95th birthday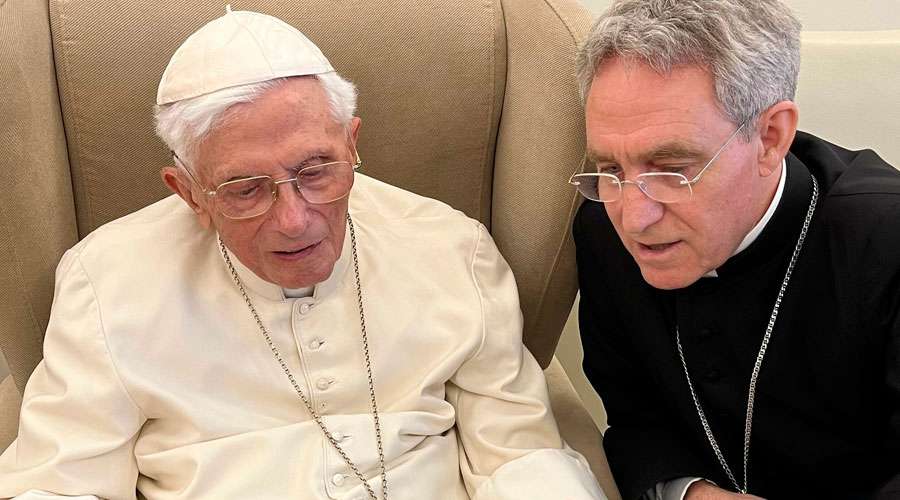 Pope Emeritus Benedict XVI thanked the greetings he received from all over the world for his 95th birthday celebrated on April 16.
"On the occasion of my 95th birthday, I received a large number of messages from all over the world, wishing me a happy birthday," Benedict XVI wrote to the Die Tagespost Foundation, the organization behind the BenediktusXVI.org website.
"These many expressions of devotion and solidarity they have made me very happy. In my gratitude, I feel united with everyone in prayer", assured the Pope Emeritus.
Benedict XVI's personal secretary, German Archbishop Georg Gänswein, who helped him read the congratulatory messages, also raised the issue.
"The Pope Emeritus has asked me to express his thanks from the heart to all those who wished him a happy birthday on the website www.BenedictusXVI.org", said Bishop Gänswein.
Benedict XVI "was filled with great joy and was very touched by the many affectionate messages that were sent to him there," he added.
The Die Tagespost Foundation also reported that the messages offered to Pope Emeritus Benedict XVI will also be delivered in printed form in one volume.
Benedict XVI, whose baptismal name is Joseph Ratzinger, was born in Marktl am Inn, in the Diocese of Passau (Germany), on April 16, 1927.
In 1962 he participated in the Second Vatican Council as a theological consultant to the then Archbishop of Cologne (Germany), Cardinal Joseph Frings.
For more than 20 years he served as Prefect of the Congregation for the Doctrine of the Faithduring the pontificate of Pope Saint John Paul II.
He was also president of the Pontifical Biblical Commission and president of the Pontifical International Theological Commission. He was also dean of the College of Cardinals.
On February 11, 2013, he announced his resignation from the pontificate, which became effective on Thursday the 28th of that same month. Since then he resides in the Mater Ecclesiae monastery, in the Vatican, where he dedicates himself to study, reading and prayer.