Antonio David sends a bouquet of flowers to Marta Riesco to 'El programa de Ana Rosa' for her birthday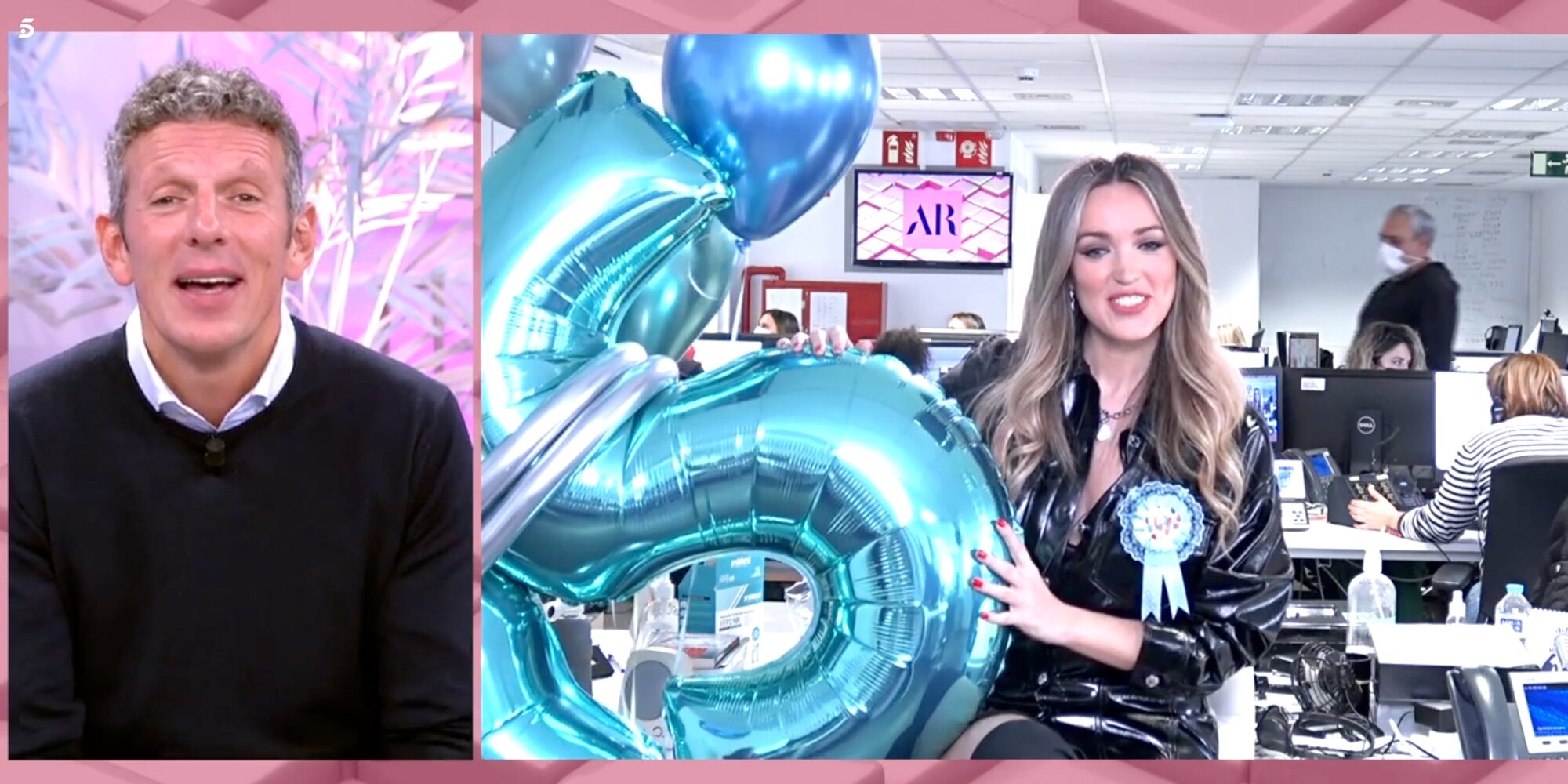 HomeTelevisionAntonio David sends a bouquet of flowers to Marta Riesco to 'Ana Rosa's program' for her birthday
35 TURNS TO THE SUN
The reporter has been -once again- the great protagonist of the program, but this time because it was her 35th birthday and she was showered with gifts in addition to her partner's.
This Tuesday, April 5, was an important day at the Mediaset facilities: Marta Riesco turned 35 and the reporter from 'El programa de Ana Rosa' decided to celebrate it like any other day by waking up at 5 in the morning and going to her post job. Of course, the singer also had her moments of glory when she was congratulated by the rest of the team live and direct, making a connection from the newsroom.
From there, the influencer also showed some huge blue balloons with the figure of her newly released age and that they had sent her as a gift without her knowing anything from the balloon store. Instead, what she seemed most reluctant to show was a huge bouquet of red roses that she had also received at work and that came from someone much more special. Specifically from her partner, Antonio David Flores.
Antonio David's bouquet to Marta Riesco | Photo: Telecinco.es
"The bouquet of roses has been recorded by my colleagues while I was talking on the phone, so you must have it around," said Marta Riesco when Joaquín Prat asked her and she was lazy to take them on camera. To his misfortune -or not- when the images recorded by his colleagues were broadcast, the card that accompanied the flowers could be read: "Many congratulations! I love you", and signing "AD", which seems quite clear who treats.
The 35 years of Marta Riesco in her most mediatic moment
But in order to continue playing cluelessness, the reporter preferred to continue leaving headlines to remember. This time, making a parallel with Patricia Pardo and her newly released relationship with Christian Gálvez: "Referring to my partner Patricia Pardo who said that without roses they will bloom, because I have had them here for a long time and I am very happy."
Marta Riesco with the bouquets of roses that Antonio David gave her for her 35th birthday
And it is that Marta Riesco had not received as many bouquets of flowers in her life as one might think, quite the opposite: "I have only received two more: one other person, others my father and the third ones, which are the ones that I am most excited about have done," he acknowledged. Although from 'Socialité' more than once other information was given that Riesco took advantage of to deny: "It is very important to say that I have not sent them to myself because in 'Socialité' they say that I dedicate myself to sending myself flowers."
Poll
Do you think Rocío Carrasco and her children will end up reconciling?