A day like today the prodigy of the Virgin Dolorosa happened in Ecuador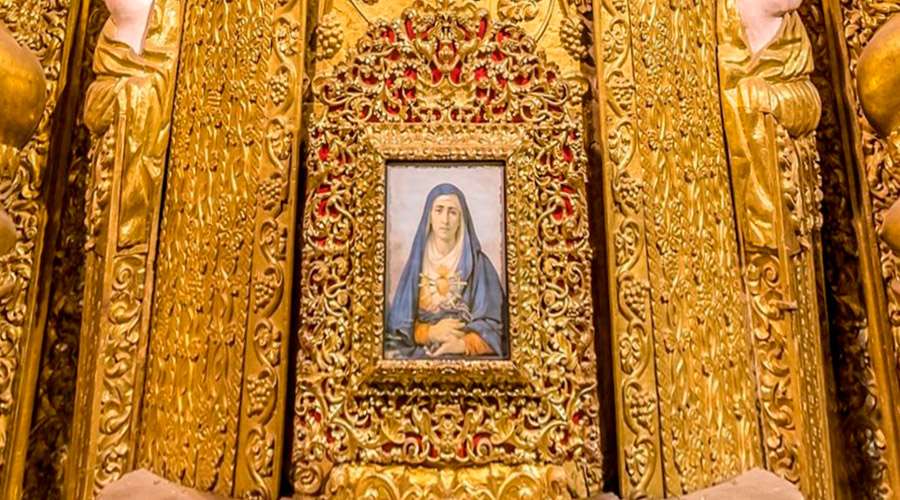 On a day like today, 116 years ago, a lithograph of the Virgen de los Dolores inexplicably opened and closed its eyes before a group of schoolchildren in Ecuador.
During his visit to Ecuador in July 2015, Pope Francis prayed in front of the image and celebrated Mass by her side.
On the night of April 20, 1906, the 36 students of the San Gabriel de Quito school, who dined in the dining room, contemplated the Virgen de la Dolorosa who, inside the painting hanging on one of the walls, opened and closed her eyes.
Little more than 40 years had passed since the return of the Society of Jesus to Ecuador and the reinstallation of the educational center under its charge.
One of the students notified the priest Andrés Roesh, prefect of the school, and told him that it was "a prodigy".
The inexplicable event lasted about 15 minutes, and there are those who maintain that the image also shed tears.
After an exhaustive investigation, the local ecclesiastical authority decreed on May 31 of that year that "the fact, verified in the Jesuit college, is proven to be materially true."
"Because of the circumstances in which it happened," reads the ecclesial decree, what happened at the San Gabriel school with the image of the Virgin "cannot be explained by natural causes" nor "can it be attributed to diabolical influence."
"Consequently, it can be believed with purely human faith and, for the same reason, it can lend itself to the image that has caused it, the cult allowed by the Church and go to it with special confidence."
Over the years, the San Gabriel school changed its location away from the historic center, but they took the image to its new headquarters. What was the dining room where the miracle occurred is today a chapel.
The Pope prayed before Our Lady of Sorrows in Ecuador
During his apostolic visit to Ecuador in mid-2015, Pope Francis left a bouquet of flowers and prayed before the image of the Virgin inside the Church of the Society of Jesus.
On July 7 of that year, at the Mass presided over by the Holy Father in the Bicentennial Park in Quito, the image was carried in a procession and accompanied the celebration.