On Saturday, 24 deacons were ordained as Opus Dei Catholic priests in a ceremony held at the Basilica of Sant'Eugène in Rome.
The new priests come from Argentina, Colombia, Ecuador, Spain, the United States, the Philippines, France, Mexico and Switzerland.
The ceremony was celebrated on May 21 by Mons. Ricardo García, Bishop of the Prelature of Yauyos-Cañete-Huarochirí (Peru), who was accompanied by the Prelate of Opus Dei, Mons. Fernando Ocáriz.
In his homily, Archbishop García exhorted the new priests to look at, love the Eucharist, venerate and be thankful for the sacrament of Penance, which is the "sacrament of joy" throughout their lives.
"They will dedicate themselves very especially to the ministry of the Word. Being priests implies being messengers of the Word of God: from now on, you will have the opportunity and the privilege to help many people to better understand the life of Jesus and to deepen the riches of our faith", said the bishop.
"Our task is to frequently meditate and contemplate the mysteries of Christ, being –as Saint Josemaría Escrivá invited us– one more character of the Gospels", he added.
For Bishop Garcia, another aspect that constitutes "the soul" of the priesthood "is the ministry of charity" through service.
The bishop ended the homily by speaking of peace and entrusting the 24 new priests to the Mother of the Lord: "Let us also pray for peace, uniting ourselves to the prayer of the Pope and of the entire Church, in these times of war between brother peoples. We entrust our petitions to our Mother, Holy Mary, in a special way in this month dedicated to her".
Among the new priests is the Swiss Lorenzo De Vittori, 35 years old. He studied theoretical physics at the Federal Polytechnic School in Zurich, before studying theology in Rome. As a researcher he specialized in the field of general relativity and obtained his doctorate with a thesis on gravitational waves emitted by colliding black holes.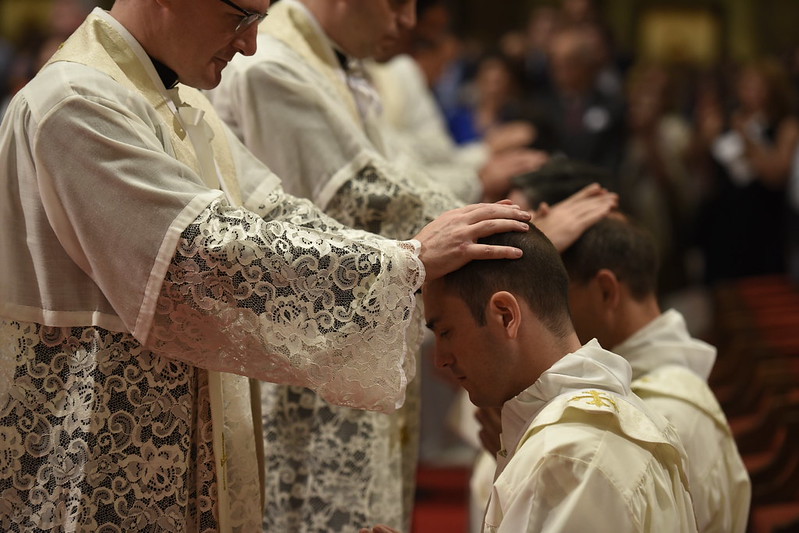 This is the list of the names of the new priests: John Warriner Boles (United States), Lucas Calonje Espinosa (Spain), Andrés Ramiro Cárdenas Matute (Ecuador), Jorge Francisco Castillo Olvera (Mexico), Marcos Cavestany Olivares (Spain), Eduardo De la Morena de la Fuente (Spain), Lorenzo De Vittori (Switzerland), Etienne Alexandre Marie Desjonquères (France), José María Díaz Dorronsoro (Spain), Santiago Díaz González (Spain), Jaime Falcó Prieto (Spain), Jose Paulo Reyes Luistro (Philippines), Ignacio José Manzano Fontaine (Argentina), Pedro Medina de Arteaga (Colombia), Carlos Merino Tormo (Spain), Jesús Salvador Olmeda Román (Mexico), Gabriel María Pérez Halcón (Spain), Alberto Pérez Herrera (Spain ), Rubén Rodríguez Rubio (Spain), Felipe Gustavo Román Larrea (Ecuador), David Samudio Torres (Colombia), Juan Pablo Sánchez del Moral (Spain), Santiago Vigo Ferrera (Spain), Álvaro Zaragoza Salcedo (Spain).