Poster of Another Life Season 2
Sneak Peek into the Past
Another Life is a science fiction drama that premiered the first season for ten episodes. The first season received very mixed reviews with some of them calling it enjoyable while some found it boring and unacceptable. Season 1 showed Nick Breckenridge, the captain of the spaceship Salvare on a deep space mission to find intelligent life along with her astronaut crew members.
Their mission is to collect data on a mysterious alien craft that appeared on earth and pass it on to the ground. However, things go awry when they lose contact with the ground making it complicated one after the other. Niko also loses touch with her daughter and husband and the earth stands defenseless against alien-attack.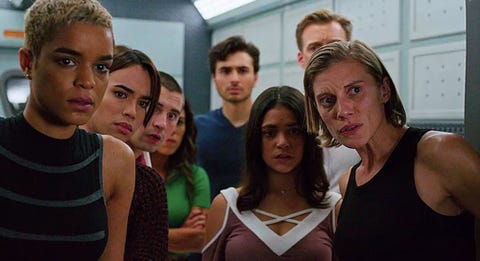 Renewal Status of Another Life Season 2
Netflix had announced the second season for Another Life way back in October 2019 just after 2 months of airing its first season. Well going by the posts of Katee Sackhoff, fans can anticipate Another Life Season 3 as well.
The production had planned to start filming in March 2020. However, due to the COVID-19 pandemic, shooting could not start. Finally, this month's filming of Another Life Season 2 has resumed. As this series requires lots of VFX works, it looks like the release may be delayed to late 2021.
Cast and What to Expect from Another Life Season 2
A lot of tragic changes can be expected in this season of Another Life. Salvatore's pilot Ian(Supergirl's Tyler Koechlin) will not be returning after he was killed by Niko. Bernie had killed Sasha also after attacking Zayn. Sackhoff had said that nobody can be predicted to continue on the show.
She says just don't assume that a crew member is going to be there throughout the season as that may not be the case. Just as you fall in love with a crew member you may see that he/she is going to die. The newspaper Deadline has reported that Tongayi Chirisa will be joining this series. So, let's wait and watch what happens.
Synopsis of Another Life Season 2
The main story of Another Life is trying to find out where the artifact came from. The first season showed two tracks, one of Niko who is in space, and the other of her husband trying to raise their child leading to his expedition on earth. By the end of Season 1, viewers got to know that the aliens were called Achaia. They also came to know more about the crew of Salvare as well as the aliens.
The Achaeans are not as friendly as described by the journalist Harper and had only one motive of the destruction of the Earth in their mind. Netflix, in season 2 may show the aliens fully controlling Erik just as Harper was in the previous season. This will pave the way for conflicts between Niko and her husband Erik. Before all this happens Salvare must return to the earth safely. Fans hope that Niko and her astronauts have a safe return trip which might be somewhat like their outward journey.