Heidi Klum's daughter, Leni Klum achieved a new milestone!
Supermodel Heidi Klum shares the picture of her 16-year-old daughter Leni Klum's selfie while driving a car.
"Saturday driving with @leniklum ?❤️," Heidi captioned the sweet selfie from inside the car that showed her oldest child smiling behind the wheel. Heidi seemed to be proud of Leni learning how to drive the car while she posted on her Instagram handle. However, over the past years, Klum made an effort not to show her kids on social media, often hiding their faces in the pictures she posts.
How is Heidi's Relationship With Her Daughter Leni?
Leni also seems to be maintaining privacy by posting her mirror selfies while wearing a face mask only making her eyes visible.
On the occasion of Mother's Day, Leni shared a heartwarming picture of Heidi and Leni calling her  "gorgeous best friend."
Last month, the supermodel revealed her family and said that even though Leni is young but she still takes interest in her mom's career path. Klum said that the only one who wants to step in my footsteps is my oldest daughter Leni. Klum is mom to daughter Lou Sulola, 10, and two sons Johan Riley Fyodor Taiwo, 13, and Henry Günther Ademola Dash, 15.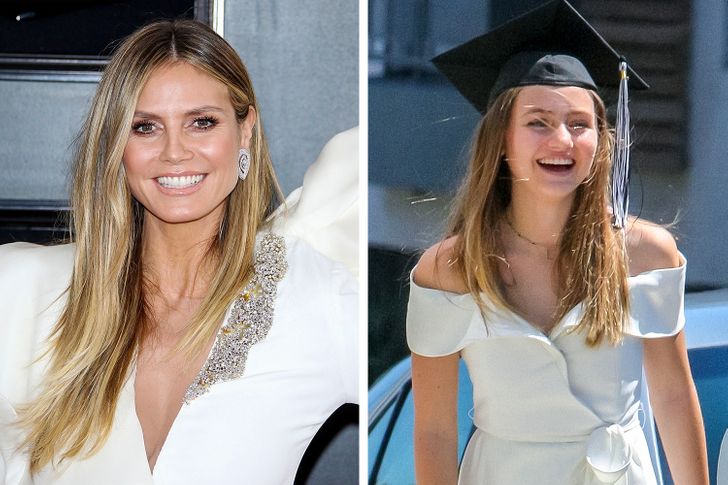 Klum further added that she has not pushed her children towards anything. However, she feels that her old child has a natural pull towards fashion.
Leni was born in May 2004 after her split from Flavio Briatore. Leni was adopted by Klum's husband Seal in December 2009, who is now the Ex-husband of Klum. Klum and Seal's divorce was filled in 2014 nine years after their marriage. Last summer, Klum married  Tom Kaulitz after the guitarist's Christmas Eve proposal that included her kids. Leni also shared a sweet photo of her and Kaulitz with a caption "Tom and I". The picture showed the step-dad and step-daughter embracing each other.