Introduction
Justin Beiber and Hailey Beiber are now one of the famous couples in the entertainment industry. They both are the youngest couple we have come so far, and people often say that both will not be able to sustain their relationship. They are pretty much immature at the moment to handle a serious relationship like marriage. Moreover, people also say that Justin is not able to get over with Selena, and it is only because of his mental state after his break up with Selena that he came in a relationship with Hailey.
Detailed Info about the Breaking News
For those who think that Justin and Haily may not be able to sustain their relationship, they must know that they know each other from childhood. Hailey met Justin when she was only 13 when her father introduced her to the then young singer. They saw each other backstage. They were not much close to each other by that time, but we're great friends together. Then after a few months, Justin was spotted dating Selena Gomez. Hailey supported their relationship that was reflected in her tweet.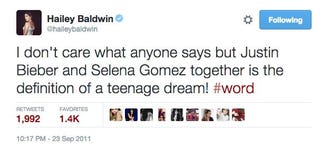 Justin Bieber and Hailey Beiber Relationship History
Soon after the Justin Selena romance came to an end, Justin started hanging out with the Jenners. Hailey was a good friend of Kendall at that time. So JB and HB became close through the Jenner family with whom Selena broke all her relations. It was several times that Hailey and Justin refused in media that they were dating each other. But 2016 marked a new era of their relationship. They had an on and off kind of relationship until 2018 when they both got engaged. The couple has been together ever since then.
Sweet and sour moments reside in every relationship, even with Hailey and Justin. Hailey once confessed that they both are trying to make themselves up for the situations in between them. It has always witnessed that the couple is happy together.