Introduction
The Duchess is a British comedy and drama tv series created and acted by actress and comedian Katherine Ryan. The Tv series was premiered on Netflix on September 11, 2020. The first season of the show was able to gather tremendous support from its fans.
The Duchess' first episode had 6 episodes and a running time of 19 to 20 minutes.
The movie is not a written script about a single mom. It is somewhat loosely based on Ryan's own experiences. The series takes us into a journey inside a relationship that is a mix between the real-life Katherine and her daughter Olive played by (Katy Byrne). Like any other kid, Olive wants a sibling and wants her mother to have a second child. However, Katherine also committed to the Idea that her daughter should have more siblings to play with.
Starts exploring the Idea of another kid. And this exploration takes her to a high-end fertility clinic, where the waiting room was full of young and baby faced students. As the story went on, she meets Olive's deadbeat dad, played by Rory Keenan. He was Katherine's former boyfriend. And the events that follow is equally hilarious and uncomfortable at the same time. However, the series also explores the other side of it that is love and warmth.
Binge it or Skip it?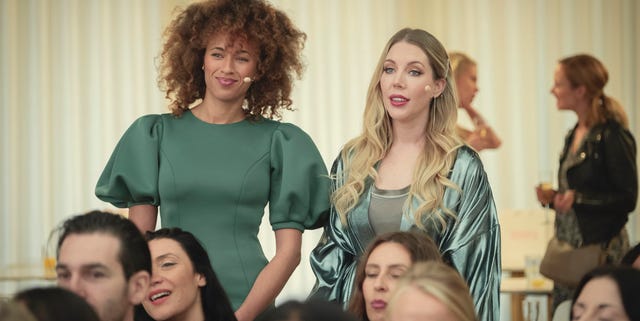 The Canadian comedian Katherine Ryan's gags are either funny or to some offensive at times. But this same quality is what she is presenting in the show. The show is either loved or hated and nothing in between.
Katherine's excellent way of a narration of the story between her and her Olive's bond is just heartwarming. The show has managed to not fall into the trap that much other show pf the same genre had fallen into while portraying a single mother. However, I would recommend the show it is a 100% Binge certified series.
Renewal Status
As of now, the show has not been renewed for any further seasons. As the show has not yet received the support that it had hoped for. But we are optimistic that the show will be renewed shortly.