Introduction
Demi Lovato and Max Ehrich's relationship has pretty much been the town's talk since the time they announced the engagement. However, recently some of the Twitteratis lashed out on Max Ehrich. Fans dug in and found some old tweets where Ehrich could be seen fondling over Selena Gomez.
More Info on the Breaking News
Fans recently shared some pictures of the old tweets, reportedly by Max Ehrich. In the tweets, Max was talking to Ryan Garcia about Demi and Selena. He said that they look good together, but Demi is no better than Selena. He further said that Demi screams too much in her songs.
While the tweets and mocks were surfacing worldwide, Demi decided to stand up for her fiancé. She took to Instagram stories to write to her 93.2 million followers. In the posts uploaded, she claimed that the pictures were fake. And it breaks her heart to see that people were trying to bring two strong women against each other.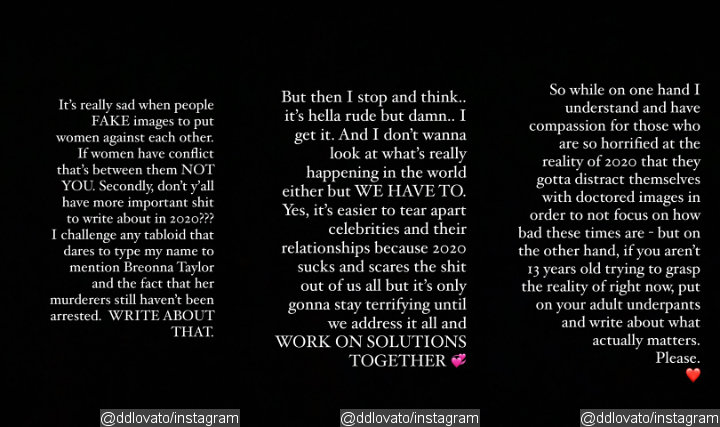 Lovato further said that there are other important things that people can choose to write on. And some of them could also be the ones that need to be addressed. She concluded by urging her followers to write about Breonna Taylor. And work together to come up with solutions for the issues around the world, instead of writing about unnecessary gossip.
Relationship between Demi Lovato and Max Ehrich
Demi Lovato and Max Ehrich's relationship took God speed during the quarantine period. They both have admitted to having had feelings for each other ever since they first met. Demi has openly admitted that her feelings for Ehrich were instant, and she somewhere knew that he is the one.
Immediately after they started dating, the lockdown was ordered around the world. And eventually, their love grew. They both went under quarantine together. And in July, Demi and Ehrich announced their engagement to the world.
Demi Lovato and Max Ehrich's relationship seems to be going through a test. And as far as we can see, they both are passing. The Twitter users recently accused Ehrich of being disrespectful to fiancé Demi a couple of years back. However, Demi stood up for Ehrich and requested everyone to write about things that matter.