Fans can look at Tekashi 6ix9ine playing with fire as he is getting into online fights with other rappers. Recently Tekashi 6ix9ine got to trolling Chicago rappers as they had initially warned them. Moreover, the warning was related to strolling the streets of the windy city.
Lil Reese had Warned Tekashi on Instagram
However the rapper Lil Reese had warned him to step back and stop playing with his life on the internet. Nonetheless, Tekashi started trolling Lil Reese in a video which he posted on Instagram.
After Tekashi was recently seen in Chicago he started making fun of the fact that no killers were near him. According to Tekashi, there wasn't anybody "to keep him from walking the streets". Nonetheless, Lil Reese commented on the very post of Tekashi. Lil Reese stated " heard you just tried to sneak on block bro lol don't lose yo life playing on the internet 69
Tekashi had Comeback Replies for Reese
Tekashi was enraged and had a comeback reply for Lil Reese. Tekashi's reply was "I seen a video of u sh—en on yourself :(" However this was not the last reply from Tekashi. It seems that Tekashi had other plans to humiliate Lil Reese.
Tekashi's Dangerous Trolling Video of Lil Reese
Tekashi posted a video of Lil Reese involved in a melee like the situation where he even soils himself. However, the rapper seemed to have not been done yet. Furthermore, he made a video of himself reenacting the original video. In the reenactment the rapper can be seen shirtless, rolling around on the ground. Moreover in this reenactment video of the rapper he had even been wearing a soiled diaper.
Fans are Concerned about Tekashi's New Behaviour
Undeniably Tekashi trolling has his fans warning him about dangerous repercussions. Moreover, everyone who had been witnessing the trolling and trash-talking of Tekashi felt uncomfortable.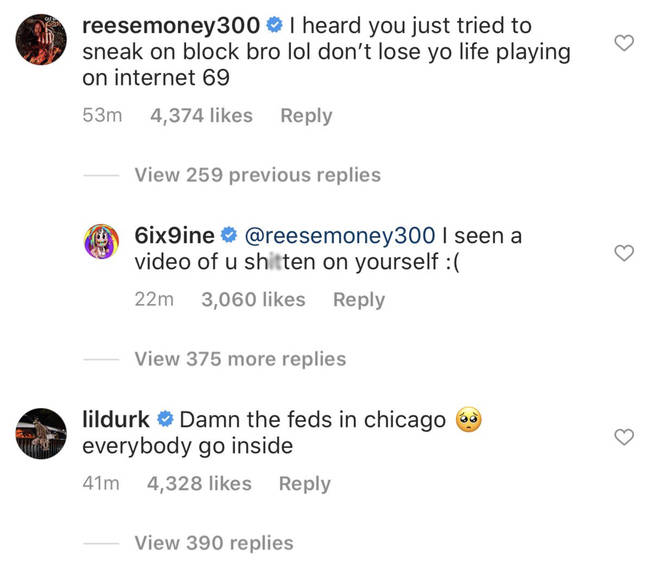 The fights have been unnecessarily prolonged. Moreover, Tekashi's rants are not sitting well with most people. Tekashi had even been calling out people who had once said the cities he had been traveling to are unsafe. However, it is to be noted that in each of the cases Tekashi was heavily surrounded by security. Moreover, his videos are posted days or weeks after his visit to a certain place. Nonetheless, as days are passing Tekashi seems to be playing with fire.