Trailer
Sneak Peek into the Past of Derry Girls
The season finale of Derry Girls season 2 had everyone on their toes. The season ended with English fella James making a decisive choice of staying in Derry instead of returning to England with his mother. Jame's mother had returned much to the surprise of everyone at the very beginning of the episode. He announced to his friends Clare, Erin, and Oria that he would be leaving Derry for England. As the plot unfolds, we see a dramatic, heart-wrenching confrontation with his cousin Michelle. Michelle asked James to stay, showing her vulnerable side for the first time. He left but only to come back moments before Clinton's speech and screamed "I AM A DERRY GIRL!"
Me after the #DerryGirls finale.

crying.

warm and fuzzy inside.

holding onto this feeling forever.

I am a Derry Girl. pic.twitter.com/AkX1B7Sf18

— Krystal Pearson (@tinyypearson) April 10, 2019
Netflix leaves Derry Girls Fans disappointed with the news of the delay of the upcoming season. This is because of the Pandemic which hit the channel 4 series really hard. Covid-19 had forced multiple production houses to shut down completely.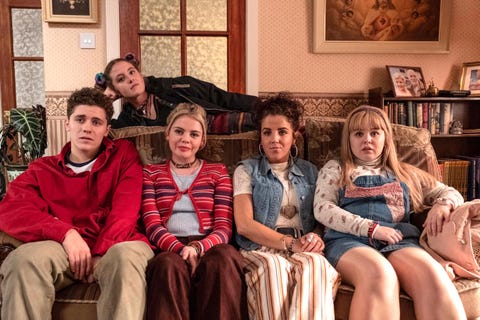 Ian Kartz, the director of programmes of the broadcaster has given an update recently. He said that the next season would be "quite substantially delayed." However, Social distancing is making life really hard for the production crew. So, the already hard process becomes harder because of social distancing.
Cast and What to Expect from the Next Season
The star cast of Derry Girls in season 3 would include Saoirse-Monica Jackson playing Erin Quinn. Nicola Coughlan will be portraying Clare Devlin. We will be seeing Jamie-Lee O'Donnell in the shoes of Michelle Mallon, Tara Lynne O'Neill playing Ma/Mary. Dylan Llewellyn will be playing James Maguire. Kathy Kiera Clarke will be playing Aunt Sarah, Tommy Tiernan as Da/Gerry and Ian McElhinney in the shoes of Granda Joe among others.
Synopsis
Fans theorize the season 3 of Derry Girls to take an unexpected turn. There is a chance of a new gang emerging. However, the release date isn't confirmed yet.