Kanye West and Elon Musk have been friends for quite some years. It all started in the year 2015 when Elon had shed his views on Kanye West, making it to the 100 most influential people. Since then, they have seen in another on one occasion or the other. It was recently that the duo came together and took an adorable picture together.
Elon And Kanye's Picture Together!
It looks like the celebrated rapper Kanye West visited the CEO of Tesla Motors and Space X. Kanye recently posted a picture with Elon Musk and captioned it uniquely. In the picture, Kanye West could be seen wearing black pants and black tee. He had donned an orange jacket over it. Elon was seen wearing black pants and a black tee. The black tee had an orange on it.
When you go to your boys house and you're both wearing orange 🍊 pic.twitter.com/IyPOdEKaVY

— ye (@kanyewest) July 1, 2020
Kanye West had captioned the picture by writing that both of them were wearing orange, given the fact that Kanye had donned an orange jacket, and Elon had a tiny orange on his tee. Both of them could be seen wearing Yeezy sneakers, Kanye's Adidas collection wear in the picture too.
Grimes, Robot Spotted Between The Cracks!
Grimes, the singer who is also Elon's girlfriend and mother too, is a child who could be seen taking the duo's picture. She was seen in the mirror behind the duo. There something else that could be seen back in the mirror.
The beauty apart from Grimes was an iconic sculpture. It did not take fans to guess what the sculpture was about. Fans have been speculating it was a robot sculpture by Japanese artist Hajime Sorayama.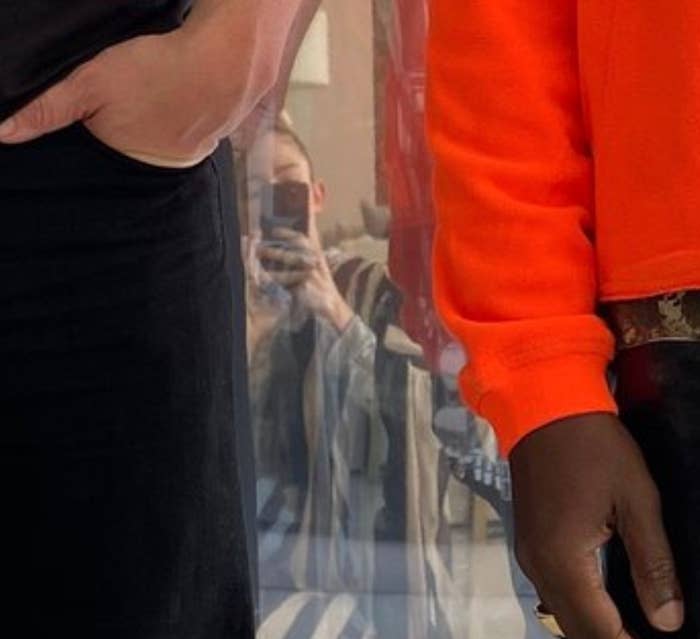 Well, do not know for sure what that was. But there is one thing that is very much clear from Kanye's photo that both Kanye and Elon had a wonderful time together.