Well, it looks like after Kylie Jenner, Tyga isn't doing very great. His last relationship that was highly talked about was with the former Billionaire Jenner. And now he's back in the news, hitting on other people's girlfriend. He recently made a quick slide into the DMs of Tana Lea, Nick Hogan's girlfriend.
Tyga And Nick Hogan Got A Girl In Between
Nick Hogan is currently dating, erotic photography model named Tana Lea. And given her profession, her Instagram feed is worth getting all the attention. She is no new to posting hot pictures of herself. And it got rapper Tyga's attention too.
Following which, he decided to slide into her DMs, to compliment her. But he got a little surprise waiting for him. And it's not the one he might be expecting.
Tyga sent an eye emoji and got Nick Hogan's face in reply. Seeing the message of the "I'm looking at you" emoji, Nick Hogan sent him a selfie-and asked about him. And then, he posted the screenshot of their little chat on his Instagram feed and shared it with his 89.5k followers.
Soon after Hogan's comment section got filled with laughing emojis and LMAOO's
Tyga Retaliated With Secret Admiration Chat With Tana Lea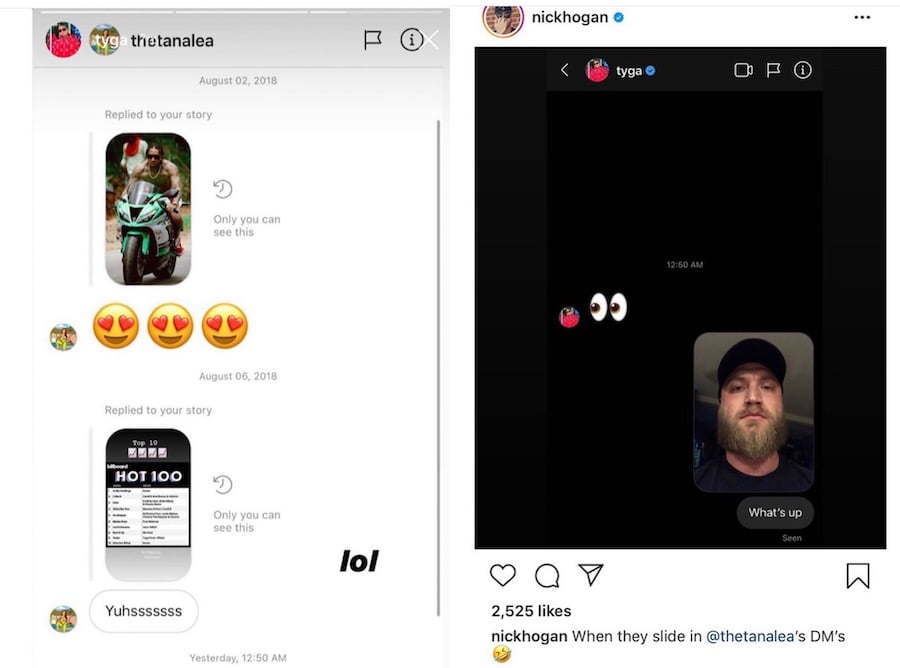 As soon as the screenshot of Hogan's, he went over the internet, Tyga responded. He took to Instagram stories to give people and Hogan a little context of his girlfriend. In the picture posted, we could see that Tana has been admiring Tyga for some time.
In the screenshot, we saw that back in 2018, Tana Lea replied to Tyga's story with heart emojis. Tyga was on a bike, and Tana expressed her admiration. She also supported him when he posted topping the Billboard charts.
While some Lmaoed the whole situation. But some thought that Nick Hogan was overly possessive. To respond to that, he set the bar straight. He recently posted another story saying that anybody sliding into her DM's would get the same response even if it were Tana's ex-husband.