The Jenner Kardashian sisters have anything but normal love lives. Kendall Jenner has this thing in common with the rest of her sisters. The supermodel has had many relationships, but none of them has lasted that long.
But rumour has it that Kendall is dating Devin Booker. Well, this is news given the fact that Booker is Jordyn Wood's ex. The very Jordyn Brooks, who had sparked tensions when Tristan Thompson, Khloe Kardashian's boyfriend, cheated on her while she was pregnant with his child.
Kendall Says Shez "Just Friends" With Devins
Kendall Jenner had made it very clear that she is just friends with Devin Booker. But their chemistry and body language says something else. Both of them had headed to Sedona. Arizona for a road trip. There the couple was spotted together. Many spotted them together and claimed that they "looked like a couple."
Kendall Jenner Takes Quarantine Road Trip with NBA Star Devin Booker https://t.co/XiV257rqkL

— TMZ (@TMZ) April 29, 2020
Kendall Jenner maintains a small friend circle, and Devin is a part of it. She head on multiple occasions said that they are just friends. The pair which road-tripping maintain social distancing guidelines and so doe she's entire friend circle. They had just gone out for a much-needed breath of fresh air.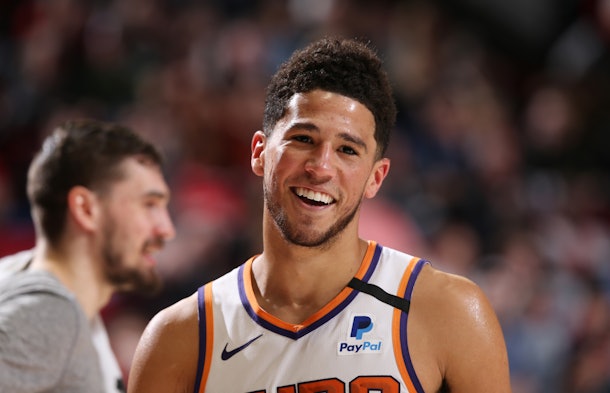 Jenner and Booker were spotted in May 2018 during a double date. Kendall was with her one nd off boyfriend Ben Simmons, and Devis Booker was with Jordyn woods then. Now tables have turned bizarrely for sure.
Kendall And Ben Are Not A Thing
Kendall Jenner is also not back together officially. They, too, have been spotted together on multiple occasions, but a source claims that they are just friends. A source had recently revealed that Kendall and Ben both want a no strings attached kind of a relationship.
Since the nature of her job becomes a major hurdle in their relationship, the former couple has decided to keep it light and breezy. They do care for one another, but they're nothing serious going on between Ben and Kendall.