The comedy series, Grace and Frankie is all set for its final Season 7! Marta Kauffman creates this American sitcom (yes, the F.R.I.E.N.D.S creator). The Final Season will mark the end of the Longest-Running Netflix Show.
Season 7: Grace and Frankie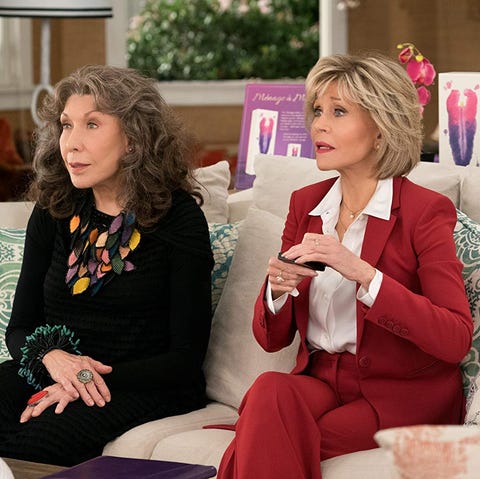 We've just finished the 6th season of the Netflix show Grace, and Frankie premiered on 15 January 2020. Considering the love the show has got over the years, Netflix has renewed the show for another season. But, all good things come to an end and so is this show. We're sad to see the duo leave our screens.
Jane Fonda and Lily Tomlin are the best an the most delightful actors to watch on our screens. So, we dug up everything we found in the final season.
Premiere Date predictions
Season 6 was delivered to all the streaming sites on January 15; It's been less than four months. With the coronavirus spreading like wildfire, the production of Season 7 might not have even started, so it is not smart to expect the season this year. Our guess? Early 2021, because all the seasons have at least one year of a gap between them.
Is it the Final Season?
To our dismay, yes it is the last and final season of Grace and Frankie. The lead actresses of the show released a joint statement regarding it.
"We are both delighted and heartbroken that 'Grace & Frankie' will be back for its seventh, though final, season. We're so grateful that our show has been able to deal with issues that have really connected to our grand generation. And their kids, and amazingly, their kids as well! We'll miss these two old gals, Grace and Frankie, as much as many of their fans will, but we'll still be around. We've outlasted so many things—just hope we don't outlast the planet."
Season 7 is said to have six a sum of 16 episodes. Fun Fact: By the end of the series, the show will have a total of 96 episodes. We'd like the director to add four other events to round it off to a 100.
Cast?
We are delighted to inform you that ALL the seven members of the original cast will be back for one last time. Jane Fonda as Grace, Lily Tomlin as Frankie, Sam Waterson as Sol, Martin Sheen as Robert, Baron Vaughn as Bud, June Diane Raphael as Brianna, and last but not least Brooklyn Decker as Mallory.
Of course, we'd love for the show to go forever, but this seems to be the reality we need to accept. Don't think about the future, for now, let's get excited to see Grace and Frankie Season 7!