Peaky Blinders director Anthony Byrne has revealed a severe change to the upcoming sixth season.
On March 26, the show's official Instagram account revealed a fresh picture for the Garrison Pub, with Byrne explaining the rationale for the redesign.
Sneak-Peak to the new changes: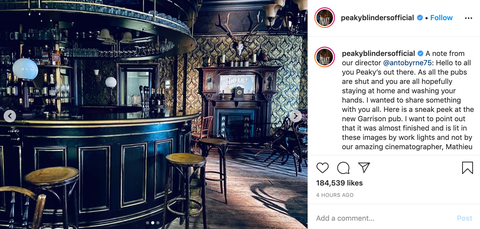 Alongside images of a significantly-darker-looking Garrison, the director shares a sneak peek at the new Garrison pub. The pub is almost finished and is lit in the images by work lights and not by their cinematographer, Mathieu Plainfosse.
The picture shows the back bar of the Garrison Pub. The director didn't want to vary the front bar. An excessive amount for story reasons that I can not enter."
Byrne explained that they wanted to form the pub darker and use black and gold as those two colors run thematically through season six.
Black and Gold are two colors that run thematically through S6. So he wanted to layer them anywhere he could. It made sense to the locations of the characters who would be in those locations."
About the plot:
Season 5 was about the increase of fascism, nationalism, and racism within the '30s. There are huge parallels with what's happening within the world now. The creator of the show told that he wanted to form the serious theme of series five. "I just want to explore the appeal of those simple ideas of nationalism that Mosley represented. That's why we got Sam Claflin because we wanted someone appealing and attractive," he added.
"The last time this happened, nine years later, there was war Two. it's consequences."
Knight confirmed that subsequent season will see Tommy will remain an MP, but that the political tension will only worsen as time goes on.
"It's fortunate on behalf of me and unfortunate for the planet that Peaky because it makes its two or three-year leaps, keeps hitting stepping stones that are very resonant of what's happening," Knight told NME. "In series six, we'll be watching 1934, and things are worse."