Like literally everyone in the world, Drake isn't immune to Rihanna. While everyone is freaking out about the pandemic, coronavirus, and stocking up on supplies, Drake is out of water. Drake is thirsting over Ms. Rihanna on Instagram. It is surely a conversation to behold.
DJ Spade was Live on Instagram, and out of nowhere, Drake drops a series of flirty comments at Rihanna. He writes "DUBPLATE COME PRETTY LIKE A FENTY FOUNDATION,"
Only Drake knows what he meant, but Rihanna replied to @champagnepapi "give drake some water,"
Drake being Drake, he replied, "haha haha hahaha, you have a bad attitude." It was a… a weird conversation, but we know one thing, He is thirsty. Someone get this man some water.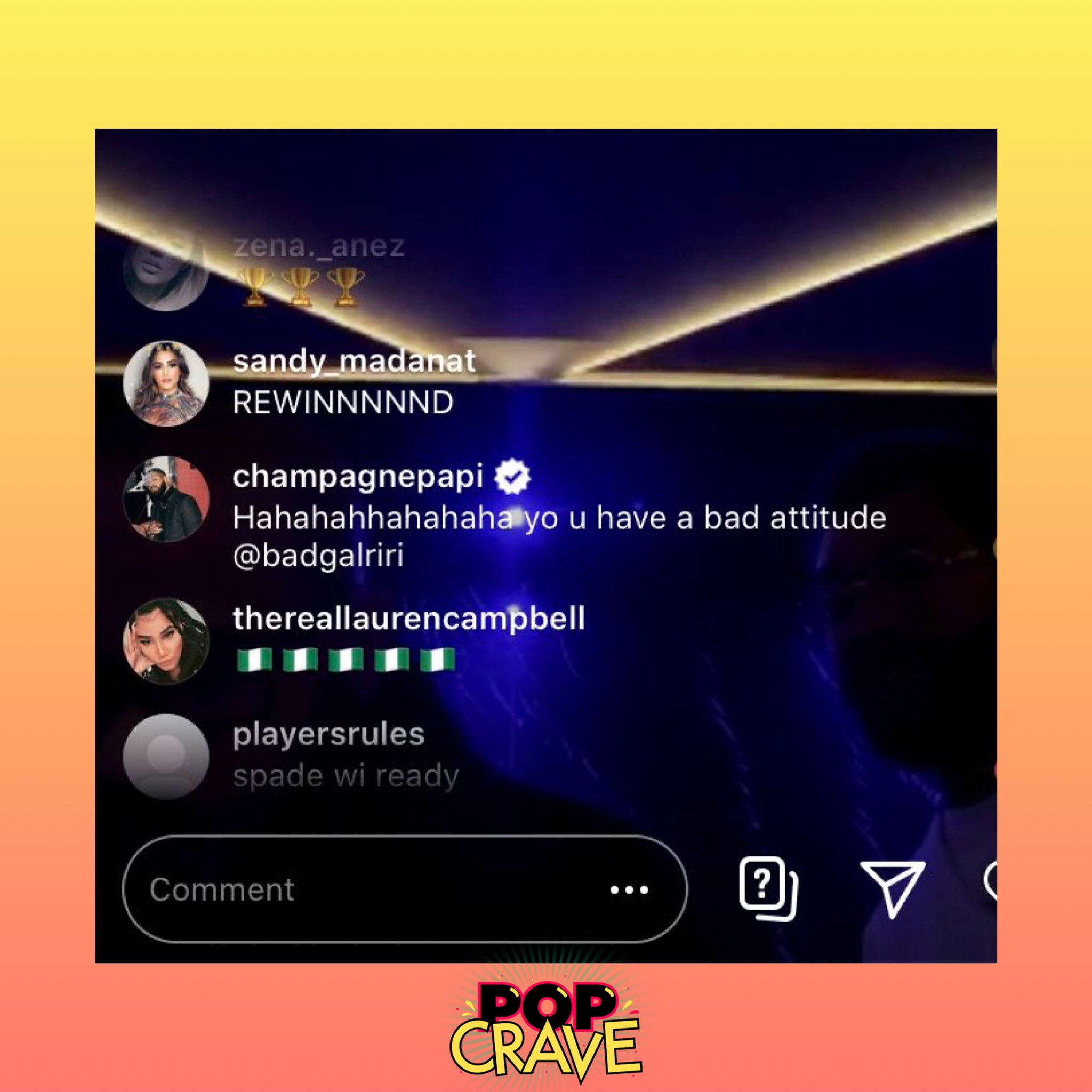 Just like her fans, Drake asks Rihanna about her upcoming music, Understandable. He doesn't get an answer to that question, though. BUT, fans are finally getting new Rihanna music. ALMOST. Rumor has it; the singer is featured on PARTYNEXTDOOR's New Song "Believe It." It's not something Rihanna, but it is a new song with her voice. We should be happy with any content we get.
🚨 @Rihanna is featured on @PARTYNEXTDOOR's album, 'PARTYMOBILE.' Out TONIGHT!

The track is rumored to be titled "Believe It" and will impact radio next week. pic.twitter.com/eURmJy821l

— Pop Crave (@PopCrave) March 26, 2020
The Celebs have been quarantining, but this doesn't stop them from interacting with each other online. The on-and-off couple had quite a hilarious conversation.
On the other hand, Fans have been desperately waiting for another album from Rihanna after the release of Anti in 2016. She did tease new music in October 2019.
In an interview with Entertainment Tonight in February 2020, Rihanna joked that she likes to antagonize her fans. She added, "Well, they antagonize me, too! So, they get it right back."
When will Riri release her music, will Drake and Rihanna ever get back together (probably not)? These are the question we don't have answers to.
Article: Rumor Busted: Are Kelsea Ballerini and Halsey Sisters?