It's no wonder that the American singer-songwriter, Taylor Swift, has a heart of gold. All of her fan accounts have has called her a superwoman who has always been positive, happy, and grateful for everything she gets in life.
Swift is regarded as an inspiration for many of her Swifties who connect to her on a beautiful level. Taylor has always been very frank and sweet with her fans and has always been excited to meet her admirers.
She has actively been involved in many of the crises, too, and had always helped situations in need.
Taylor Shared Links for Donation
She recently even shared a link and opened a window for contributions to the victimized lot of people. Due to the outbreak of the pandemic Coronavirus. She has always been doing the same for every other massive danger that needed help.
From Taylor, with Love
One of her fans, Samantha Jacobson, has written a Tumblr post informing the world about how eager she was to donate, but the outbreak has taken a toll on her life too. She was due to pay bills and had no salary for the 30 days and asked for help also.
Taylor Nation took notice, and Swift personally messaged her taking Samantha by surprise. As a friend, she expressed her concern over her stressed situation. She offered to help her with $3000, and within minutes of reply, Samantha's PayPal had $3000 and her heart a little more grateful for Taylor and her mind already admiring the Fearless singer.
She wasn't the only fan who experienced Taylor's generosity. Holly Turner, who wrote about her problems amidst the outbreak, was helped by Taylor too.
Holly was just 'so, so, so grateful' to the singer who has always been a fairy-godmother to her dedicated Swifties!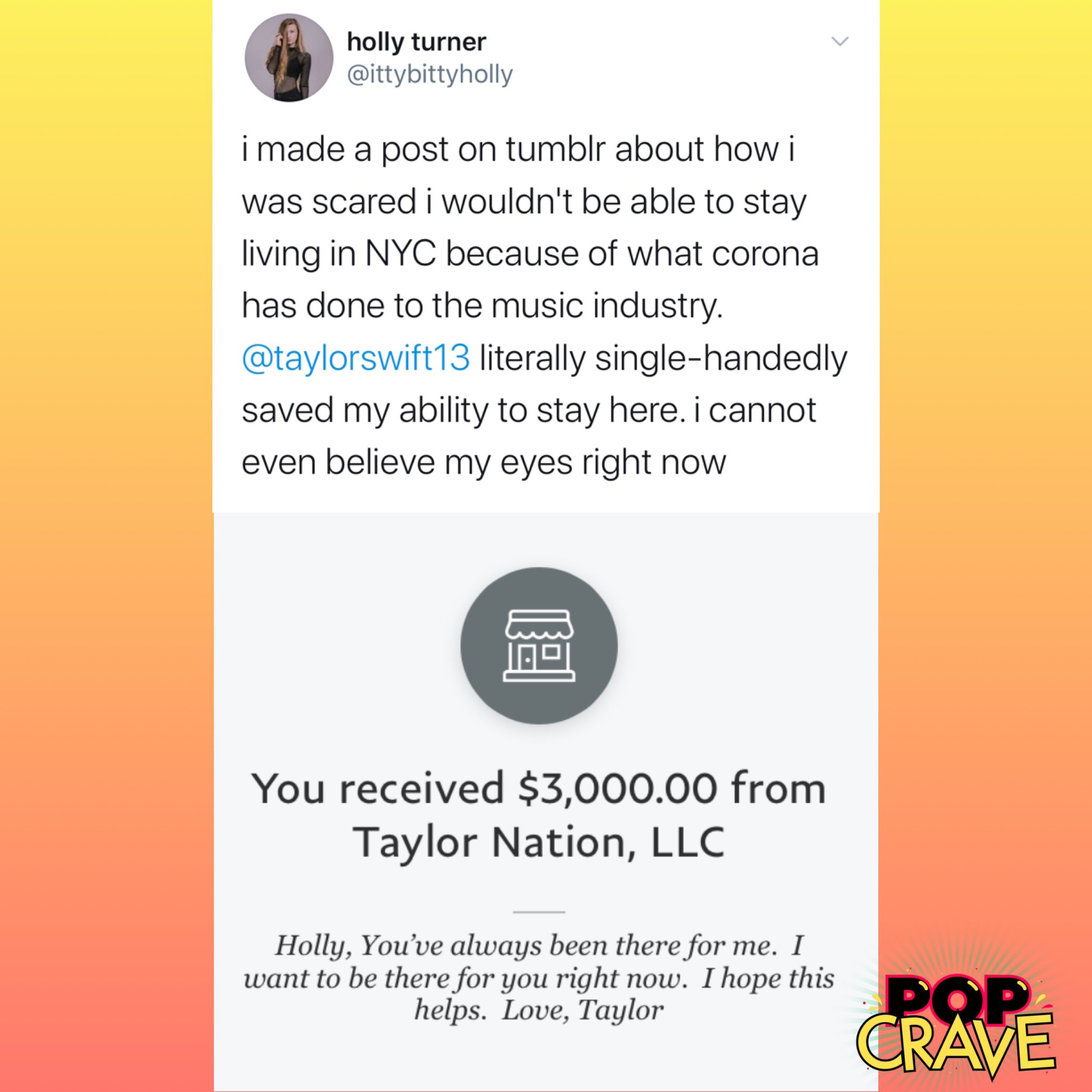 It's hard to see such heartwarming actions of celebrities, and Taylor has always been there like a guardian angel. I am sending lots and lots of love and positivity.