Khloe Kardashian and Her Athlete ex-boyfriend have had a messed up breakup phase, and now it looks like they have come together in front to co-parent their one-year-old daughter, True Thompson. Recently, Khloe gave her ex a heartfelt shout out after he sent her a lovely gift to celebrate the launch of her KKW Fragrance collaboration with her sisters.
The gift moved her:
On Friday, November 8, she uploaded a picture on Instagram of the award. It was a huge balloon arch that read "Pink diamond," which is the name of the fragrance she created along with Kourtney and Kim. Later she posted a video in which it was seen that the balloons were displayed across her large window in her living room. She thanked both Tristan and True for the thoughtful gift.
She took it to Instagram to express her gratitude:
With the picture, she said- "Today was the launch of my pink diamond collection with KKW Fragrance, and I got these balloons sent to me from baby True and Tristan, and I appreciate the love and thoughtfulness." She also said that she is very proud of her and Tristan's ability to come together for the sake of their one-year-old daughter. The "Keeping Up With The Kardashians" star, Khole continued saying in the video that she is proud of the co-parenting place that she and Tristan are in.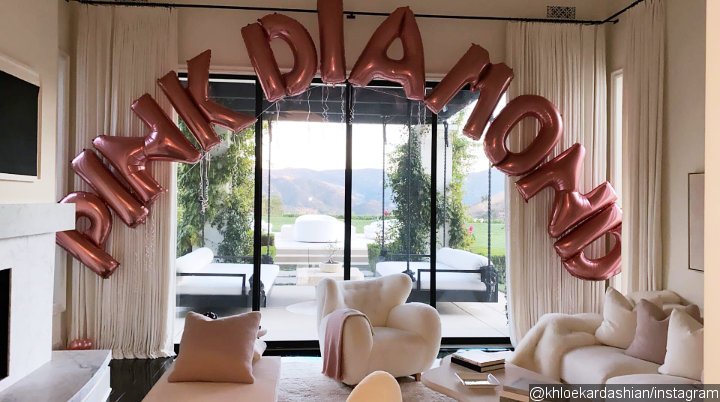 The development in their relationship:
Its good to see that the former couple are happy and satisfied with their relationship and the friendship that they continued to take care of their daughter together. Previously, Khloe once told vaguely about how hard it is to co-parent their daughter together; now, it looks like a positive development. The Good American Jeans founder said during her appearance on podcast series "on purpose," that it's not easy for her, and it would be easier for her to keep her daughter away from Tristan and say- "No, cause you to hurt me." But he has never hurt True. She says- "He and I have our relationship, and then Tristan and True have theirs. And I will never come in-between that; I don't believe in that."