E-mails regarding Bill Cosby have just been released under court orders by the Montgomery County's DA office. In one exchange from October 2015, the prosecutor responds to an article link sent by Deputy District Attorney Thomas McGoldrick. The transaction is about NBC's "Dateline" airing a joint interview with the 27 alleged victims.
Victims should ambush Cosby
Moreover, Ryan jokes about how Cosby should be invited to the interview, allowing him to be ambushed and interviewed by the women. McGoldrick takes it a notch higher by suggesting that Cosby's victims should be allowed to talk him with knives.
The episode aired a few days after the email exchange. Cosby was charged with felony sexual assault of Andrea Constand less than three months after that. He was found guilty in April 2018 and received a sentence of 3 to 10 years in a Pennsylvania state prison. Constand was the former women's basketball coach at Temple University when Cosby assaulted her in 2004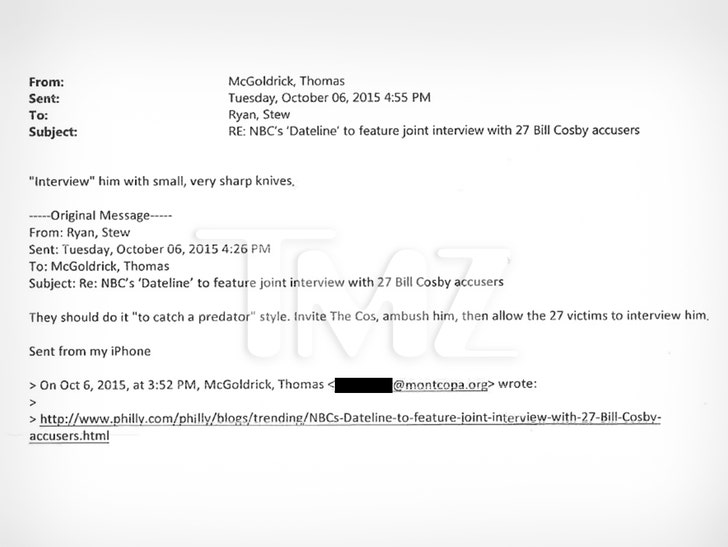 Source: TMZ
Cosby's representative, Andrew Wyatt, said, "This exchange helps to prove Mr. Cosby's case was a political scheme to take down America's dad. He went on, "The whole plan was in place years before Cosby was brought in. It's a formula to take down a wealthy black man in entertainment that will continue to be used."
However, last month marked the end of Cosby's first year in State Correctional Institution Phoenix in Montgomery County. He is also facing a $2.75 million legal bill and is appealing his conviction. Wyatt said that Cosby is doing very well, in his best shape and sharp at the prison.
The Montgomery County D.A.'s office representative has responded. The rep said that it is "An ill-advised attempt at humor related to stories in the news at the time." He went on to add that no communication impacted how justice was administered in the case.
Cosby's sexual assault accusations
Although, The actor has been accused of rape, drug-facilitated sexual assault, sexual battery, child sexual abuse, and sexual misconduct. The earliest of these accusations go as far back as the mid-1960s, as claimed by the victims. The dates of the incidents span from 1965 to 2008 across 10 U.S. states and one Canadian province. However, Cosby had repeatedly denied these allegations and maintained his innocence.