President Trump is back with his name-calling. This time, it's Nancy Pelosi again.
President rants on Twitter about "Nervous Nancy"
President Donald Trump tried out a new nickname for the Speaker of the U.S. House of Representatives. However, his plan has backfired as critics are using it on him.
Representative Adam Schiff has been repeatedly accused of treason by the President. Treason is a federal crime that carries a potential death sentence. Now, he has accused her of "high crimes" and "treason" and claimed that she is "every bit as guilty" as Schiff. He called her "Nervous Nancy" in a twitter rant.
Whereas, He tweeted that Pelosi knew about "Shifty" Adam Schiff's lies and frauds perpetrated on the Congress and American people. He alleged that this had happened through a fraudulent speech knowingly delivered as a "ruthless con." He went on to accuse her of treason and demand that she and others she colluded with be impeached.
However, critics were quick to slam him over the baseless allegations. They accused him of a vain attempt to distract the media and public from the ongoing impeachment process. People on Twitter pointed out that someone else, not Pelosi who was getting nervous.
Twitter hits back At President Trump
Users said that Pelosi had "nerves of steel" and that she has never been seen nervous. Ted Lieu, a member of Pelosi's leadership team, tweeted that he'd never seen Pelosi nervous. He went on, "Speaker Pelosi has nerves of steel, wrapped around tungsten, coated in titanium."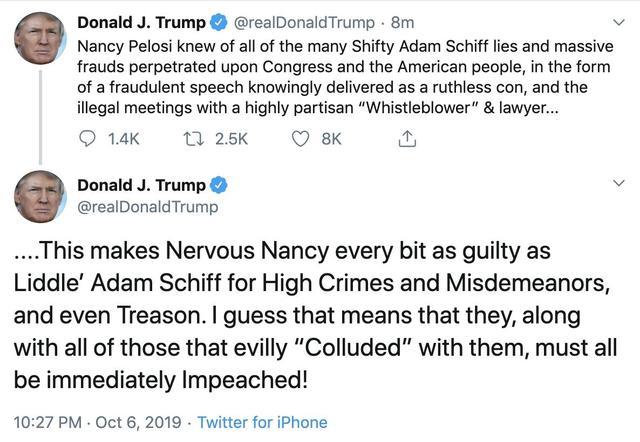 Others also tweeted that he was just projecting his traits onto her. Whereas, Another user called the President out on his whining, saying "what about " all the time, "IT'S CALLED WHATABOUTISM." A user went to the extent of saying that his arrogance is exceeded only by his astounding ignorance. Another user pointed out how president Trump had been melting down on Twitter for days, following the impeachment proceedings. Although, Another user poked fun at him, writing how mad he will be when he finds about his fraudulent speeches. Another asked him to give up already because he had already destroyed himself.
Nicknames such as 'Deranged Donny' and 'negative Nancy' were used to refer to the President as tweets kept pouring in.