A crime that took place a year back has finally been resolved, and the murderer had been put behind bars. Amber Guyer, who used to be a police officer, has been sentenced to 10 years in jail for murder.
What Was Amber Guyer Convicted For?
Amber Guyer was just an ordinary Dallas cop, until the night that she killed her neighbor. She had allegedly walked into her neighbor's apartment and shot him in cold blood. She thought she had walked into her flat and thought the man was an intruder. The poor soul, who lost his life due to an error of judgment, was eating ice cream when he died. The victim was a black male, 26 years old, and worked as an accountant. Botham Jean's death had sparked outraged protests in 2018. The protests increased when the prosecutors thought of giving Guyer a lighter charge of manslaughter.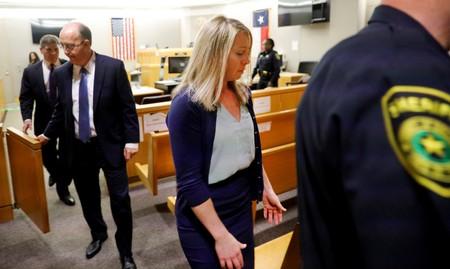 What Happened In Court?
In court proceedings ended relatively quickly, as the jury gave its verdict in less than six hours. They convicted Guyer for first-degree murder, and she was delivered just a 10-year prison sentence. This was less than the 28-year  sentence which the prosecutors were aiming for.  There was also no fine imposed by the jury on Guyer.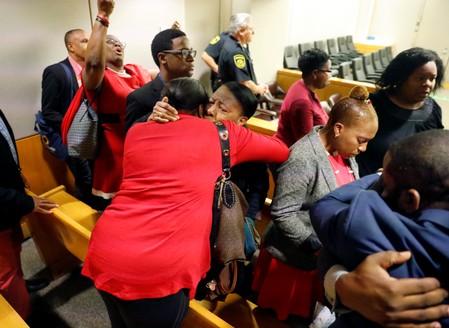 This sentence angered the crowd outside the courthouse who booed and jeered when they heard about it. This, however, was not the most eyecatching thing that happened that day. The victim's younger brother, Brandt Jean, hugged his brother's murderer and told her that he forgave her. He said that he forgave her just like God would forgive her if she asked him for forgiveness. Brandt Jean also mentioned that he was speaking for himself and not for his family as a whole. After saying his piece, he asked permission from the judge to hug Guyer.
Though this was a touching scene, the crowd outside thought otherwise. The group still could not accept the verdict. They felt that it was unfair and biased. They shouted for justice and cried out that this was wrong. Even the family's lawyer felt that the verdict was biased and felt that the sentence was inadequate. He also thought that this was a problem with the justice system as a whole and that it would take time to correct it.