Everyone knows about the big Kylie Jenner-Jordyn woods fight. The two besties had a falling out after Jordyn hooked up with Tristan Thompson. Thompson was Khloe Kardashian's boyfriend at the time. But recently, Jordyn posted a video of her working out on Kylie's boyfriend Travis' music. Is she hinting that she is ready to make things better between the both of them?
Instagram Shoutout To Travis?
Jordyn has been posting her workout session on Instagram stories. On one such post where she is working on her shoulders, she plays Travis' song 'Wake Up'. It is a track from his album 'ASTROWORLD'. The music can be included in the story through the Instagram music feature. Clearly, showing that she is still listening to his music and supporting him, in spite of the Kylie-Jordyn feud. Moreover, she also has been posting posts of fans who are trying out her workout, giving them a shoutout.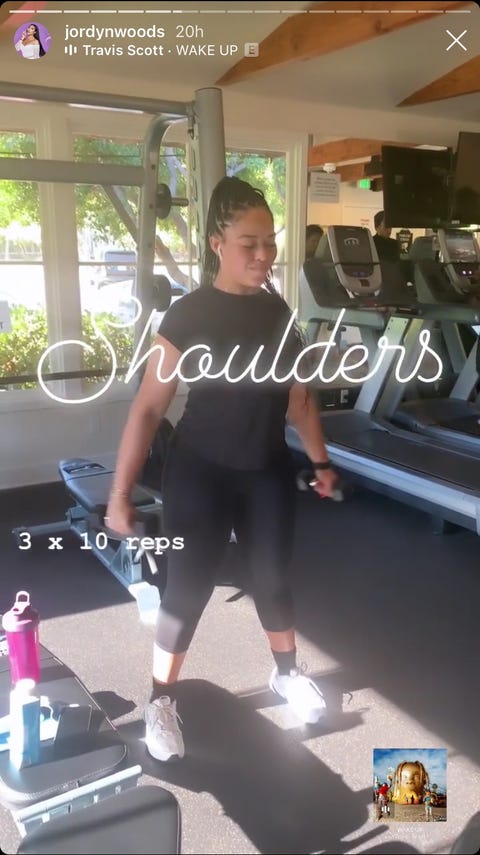 Woods also made an appearance in Travis' Netflix movie 'Look Mom I Can Fly' which came out on August 28. However, she was not seen in the actual footage of the movie. She was only seen in a credit scene, where she is sitting at a table where Scott carries baby Stormi. At this time, Kylie and Jordyn were inseparable.  Furthermore, all this happened in the same week. From Jordyn starring in Travis' movie to her giving him a shoutout on Instagram.
Will The Best Friends Get Back Together?
In an Interview, Jordyn said opened up about her fight with Kylie. Saying," Shit happens. And in the end, I never want to see anyone hurt. I would hate to be the reason for anyone's pain. We all have to go to sleep with ourselves at night". Adding that she was obsessed with looking at her name on the internet. She said that she would look at what people were talking about her. Confessing that it became like a tumor, it became cancerous to her.
On the other hand, a source told that Kylie is only sending positivity to her former best friend. However, it is hard to say when the two will fully reconcile. But time heals and we can hope for the best. Adding that the Kardashian/Jenners are a forgiving family.