US rapper A$AP Rocky was found guilty of assault on Wednesday by a Swedish court. What will happen to him now?
The Judges Firm Decision
The 30-year-old rapper, whose real name is Rakim Mayers was found guilty of assault. Along with two members of his entourage, were found guilty on Wednesday. They all were found guilty of assaulting a 19-year-old in a fight in central Stockholm on June 30.
Related:
The rapper has pleaded not guilty at the beginning of the case but was found guilty by the judge this Wednesday.
The judge added that the situation did not call for self-defense. As they were seen hitting and kicking the victim as he lay on the ground. The artist also threw the 19-year-old and stepped on his arm, the court wrote in its verdict.
Is He Going Back To Jail?
Lucky and not lucky is what we can say about the situation. According to the judge A$AP Rocky and his two comrades, will not be going behind the bars again. The judge feels that they have already paid the price by spending nearly a month in jail being released only on August 2.
Instead A$AP Rocky and his two members will have to pay the victim a total of 12,500 kronor ($1,300) in damages. They were also ordered to pay the plaintiff's legal costs of 201,526 kronor ($21,000).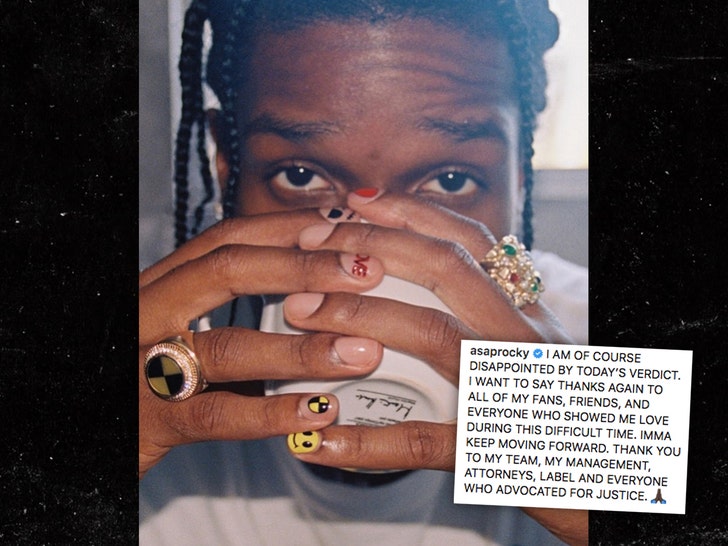 This is not what A$AP Rocky was hoping for as his lawyer said that the rapper was disappointed and that he was expecting for an acquittal. The rapper's lawyer also noted that Mayers had not decided whether to appeal.
Happy With What You Get
The rapper is definitely not happy with this outcome. But with evidence of the brawl which was shown at court, he should be happy about his sentence. In his first concert since his release, he kept his claim of being innocent and did admit to throwing and stepping on the victim but not anything else. After seeing the brawl video in court the judge said the actins committed would lead to a two-month prison sentence. So, in the end, A$AP Rocky got the better end of the deal.