Apparently, Jordyn Woods does not want to end the drama with Khloe Kardashian.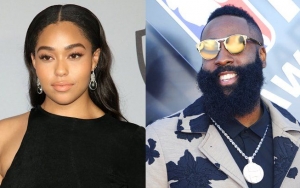 What Did She Do??
Well she was partying it up with Khloe's ex yet again. No, it wasn't Tristan Thompson. Instead, it was NBA star, James Harden.
Jordyn, 21, was caught shaking her behind to a sitting James Harden, 29. Only a few months after getting caught having kissed Tristan Thompson, 28, Jordyn is moving on to another ex.
On July 24, Jordyn was seen cozying up in the private booth with the NBA player and other people.
It could have been a total coincidence that the person in her direction was Khloe's ex. Or maybe not. TMZ reported that this is not their first time meeting.
Their Relationship
Even before Khloe and Tristan split, she had been hanging out with James. She apparently told her friends that Khloe was okay with it. However, Khloe was not aware of this.
Khloe and James, the relationship didn't last apparently due to wandering eyes. "I just don't want to put up with people that, you wanna be monogamous but then you're not monogamous. He wanted to be committed, then, wasn't committed…and I got the receipts to prove it." Which was said in a Keeping With The Kardashian episode.
She Can Have Him
It looks like, Khloe is completely fine with Jordyn having her seconds. After the video was released, Khloe was anything but irritated. She was the picture of absolute calm. She carried around her day as if nothing happened.
Maybe according to her nothing really did happen, because she and James are in the far past.
She even smiled while on her way to the gym. And kept strolling her way as if to say I am unbothered.
Maybe Jordyn was trying to get a reaction fro Khloe. In that case, Khloe definitely won. Her cool and collected image made it clear, Jordyn could have her seconds. Or maybe we are looking too much into the video and it was all for good fun. Jordyn was just having a good time with her friends and James.
However knowing their past, it is never that simple or easy.